IBM has unveiled three more servers based on its exotic Power CPU technology.
The Power Systems LC range was designed for Linux and fits into the OpenPower ecosystem, integrating additional technologies from partners like NVIDIA, Mellanox, Canonical, Tyan and Wistron.
Due to high memory bandwidth and a massive number of threads per chip, Power-based machines are especially suitable for analytics workloads and high performance computing. IBM claims the LC range doubles price-to-performance ratio in Spark and Hadoop over current x86 systems based on Intel processors.
New servers are set to become available before the end of the year, and IBM is promising to make the order process as easy as clicking a button and entering credit card information.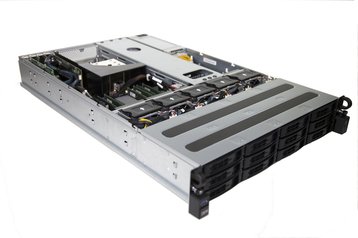 Fighting talk
IBM began designing Power CPUs in the late eighties. These processors are based on Reduced Instruction Set Computing (RISC) design strategy - an alternative to the dominant x86 instruction set.
Power CPUs consume less power, require less cooling and are cheaper to make than their x86 counterparts, but the current generation chips themselves are massive, measuring 650 millimeters square.
In December 2013, IBM launched the OpenPower Foundation and shared the inner workings of the Power silicon for the very first time. The company even started licensing Power to third-party OEMs, hoping this would help advance the ecosystem as a whole.
Today, the foundation includes more than 150 members, all designing products for an architecture that's shaping up to compete for market share with both Intel and ARM.
The LC series is one of the early examples of the fruits borne by this collaboration. There are three servers on offer, with different performance characteristics.
The Power Systems S812LC is a single-socket 2U server equipped with Power8 processors offering up to 10 cores and 80 threads, complemented by 1TB of memory and up to 14 disk drives. According to IBM, it is perfect for workloads based on Spark or Hadoop.
The Power Systems S822LC is a two-socket, 2U server with up to 20 cores and up to 160 threads that can be configured either for commercial computing or HPC, with the latter version adding two NVIDIA Tesla K80 GPU accelerators.
IBM claims that, based on its internal testing, the new machines can complete an average of select Apache Spark workloads – like analyzing Twitter feeds or streaming web page views – with a 2.3x better performance per dollar spent, when compared to a system built around Xeon E5-2699 V3.
The company adds that Power chips allow for 94 percent more Spark workloads per rack than a comparable x86-based system.
"Embracing an open model of innovation has enabled us to build systems that help translate mountains of data into actionable business insight. By collaborating with partners from the OpenPOWER Foundation, our new line of servers provides clients with the performance they need to analyze and act on their data in real time," said Doug Balog, general manager of IBM Power Systems.
IBM is betting on Spark as the analytics platform of the future, due to its versatility and support for machine learning algorithms.
"This is the first time so many capabilities have come together in a single platform," Anjul Bhambhri, vice president of Big Data and Analytics business at IBM recently told DatacenterDynamics.