After gaining regulatory approval, IBM has closed its $34 billion acquisition of enterprise open source cloud software solutions company Red Hat.
The acquisition was announced late last year, and marks the largest deal in IBM's more than 100 year history.
Because mainframes won't last forever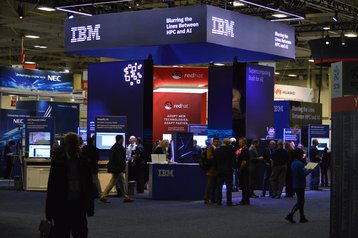 Red Hat will become a unit of IBM's Hybrid Cloud division, and the company's CEO Jim Whitehurst will join IBM's senior management team and report to IBM CEO Ginni Rometty.
The new division will maintain Red Hat's brand, offices and practices, despite the acquisition, IBM said.
"The acquisition of Red Hat is a game-changer. It changes everything about the cloud market," Ginni Rometty, IBM chairman, president and CEO, said in October.
"IBM will become the world's number one hybrid cloud provider, offering companies the only open cloud solution that will unlock the full value of the cloud for their businesses. Most companies today are only 20 percent along their cloud journey, renting compute power to cut costs. The next 80 percent is about unlocking real business value and driving growth. This is the next chapter of the cloud."
The acquisition marks a big bet for IBM - which is in the process of laying off 1,700 employees and has seen three consecutive quarters of declining year-over-year revenue - with the company turning to the bond market to help fund the deal. The combined companies are thought to have $60 billion in debt.
Key to the company's planned turnaround and debt pay off is its hybrid cloud strategy, with Red Hat expected to continue "to build and expand its partnerships, including those with major cloud providers, such as Amazon Web Services, Microsoft Azure, Google Cloud and Alibaba."
Under Rometty, IBM has tried to build out its cloud offering as older business segments continue to decline. In the 12 months through the first quarter of 2019, cloud revenue passed $19 billion.