Kenyan data center firm icolo.io has installed solar panels on its two facilities in Nairobi and Mombasa.
The company installed solar systems at its NB01 and MBA1 facilities to deliver 200kW of renewable power at each facility.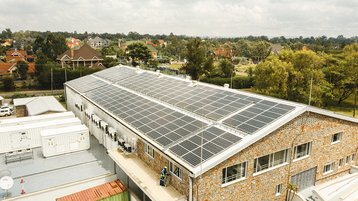 "One of the greatest natural resources in Africa is the sun and our investment in solar is a strategic part of our global vision to reduce the harmful effects of global warming and conserve the environment as we continue to scale our business," said Ranjith Cherickel, CEO of icolo.io.
The Nairobi One (NBO1) campus opened in September 2019. The one-acre campus is located in the Karen area of the city and has 624 sq m (6,700 sq ft) of floorspace. Mombasa One is a single-story facility with 226 racks and 450 sqm (4,800 sq ft) of floorspace in the Miritin area of the city.
Icolo.io is part of Digital Realty, after Interxion took a controlling stake in the company in 2019.