Imperial College London is moving parts of its infrastructure into a colocation facility run by Infinity, a data center operator with an exclusive focus on the UK capital.
The racks will be hosted in a shared environment developed specifically for academic research. The College currently runs two data centers on the same campus, so it cannot guarantee uptime in the event of an equipment failure.
The deal was based on a framework created by Jisc, a charity that provides digital solutions for education and research in the UK.
For science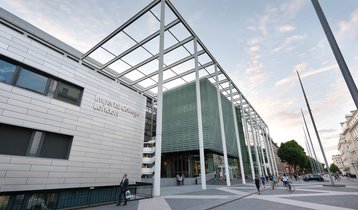 Infinity SDC owns and operates five Tier III data centers in and around London. One of the company's most notable customer wins in 2014 was a five year deal with Janet, the national research and education network that serves 18 million users.
As part of the agreement, Infinity designed a 2.25MW data center capable of handling everything from enterprise-grade applications to High Performance Computing workloads in the same data hall, to be shared by top British universities.
Janet is funded by Jisc (formerly the Joint Information Systems Committee) – a non-profit established to promote the use of ICT by the UK's educational organizations.
The latest institution to move into this shared data center is Imperial College London. The College relies on research to pay its bills - about 60 percent of its revenues come from R&D projects.
Imperial College London is made up of nine campuses distributed across the city. The site in South Kensington is home to two data centers which form the backbone of its technology infrastructure.
Paul Jennings, head of ICT Service Operations, explained that the College was unable to expand its facilities in the current location. In addition, having both of its data centers side by side prevented it from adopting advanced resilience measures.
That's why the College made the decision to transfer 12 racks of equipment to Infinity's data center in Slough, twenty miles west of their current location.
"We need capacity for enterprise infrastructure and high performance computing over the next few years, as well as a cost effective solution. The ability to be part of the Jisc framework through the Infinity Data Centre and to take advantage of the collaborative environment was a key consideration and would give us a solid platform for future growth," said Jennings.
To make sure it does not disrupt critical data center functions, the College spent the past six months planning the move. The first phase of migration is scheduled for August 2015.
Infinity is currently building its largest facility at Here East in Stratford, a site which previously served as the press and broadcasting center for the 2012 Olympic Games.