British satellite company Inmarsat is working to restore services provided by its I-4 F1 satellite in East Asia and the Pacific following a prolonged outage.
The outage hit on Sunday April 16 at 21:14 UTC, affecting the I-4 satellite, which provides L-band services for the East Asia and Pacific region.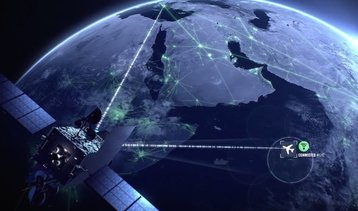 In a statement, the company said it instigated its recovery procedures immediately.
"Safety services are being prioritized and Inmarsat can confirm that immediately following the incident, it instigated the process to transfer maritime safety services, in line with the IMSO-approved operational process to a contingency satellite. That process was completed successfully," Inmarsat said on April 18, in its most recent update.
The company added that it is focusing on the 'Classic Aero' satellite-based communications system used by pilots, and expects this to be 'operational in a matter of hours.'
Inmarsat will transfer Inmarsat-C services from the contingency satellite back to I-4 F1 and then focus on the restoration of other services.
All other satellites in the L-band fleet have been unaffected by the incident, including the company's two new L-band satellites  – I-6 F1 and F2, the company said.
Three new micro L-band satellites are due to launch in 2027, with the Inmarsat-8s specifically designed to enhance safety service backup for L-band customers.
Inmarsat's aging I-4 F1 satellite has been operating since its launch in 2005, and has been operating well beyond its initial 13-year design life, according to Space News. It's set to be replaced by the I-6 F1.
Meanwhile, Viasat's proposed $7.3 billion acquisition of Inmarsat was provisionally cleared by the UK Competition and Markets Authority last month, after it concluded that a deal would not substantially lessen competition.