Intel has unveiled a number of silicon photonics products based around a hybrid indium phosphide/silicon laser that the company hopes with one day feature "everywhere" in data centers.
Officially announced at the Intel Developer Forum in San Francisco this week, the 100G optical transceivers have actually been shipping since June, with the news marking the culmination of 16 years of R&D.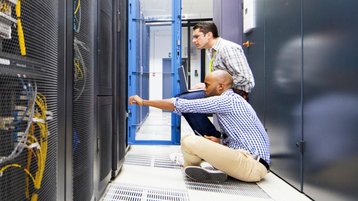 The speed of light
"All good things take patience," Intel's GM of data centers Diane Bryant said at the keynote. "We are the first to light up silicon. We integrate the laser light-emitting material, which is indium phosphide, onto the silicon and use lithography to define the laser, to align it with precision."
This approach, Intel claims, is cheaper than other methods of achieving silicon photonics.
"Data center traffic is doubling every 12 months," Bryant said, with fiber-optic tech handling the increase. But "fiber optics is very expensive," she added. "Nearly 50 percent of total network cost is optics, and that percentage is growing."
Intel is targeting the "big seven" operators of data centers, with Bryant saying: "we see a future where silicon photonics and optical input/output is everywhere in the data center… And then integrated into the switch and the control of silicon."
The company has already signed up one of the hyperscale giants - Kushagra Vaid, GM of hardware engineering at Microsoft Azure, joined Bryant on stage to talk about the importance of silicon photonics.
"As data rates increase to 100Gb/s, we are going to hit a brick wall [with copper]," Vaid said. "There is no way copper can scale beyond 100G, it's already getting difficult at 25G over [distances] of a few meters."
"So we do need some new technologies for this scaling – that's where the silicon photonics is very interesting. We will start to deploy silicon photonics in Azure soon."
Intel added that the 100G technology will be followed by 400G interconnects for data center switches "within a couple of years."