Intel's financial results for the fourth quarter of 2017 saw its data center group revenue increase by 20 percent, as the company comfortably beat Wall Street expectations.
Overall, the chip giant reported fourth quarter non-GAAP earnings of $1.08 per share on revenue of $17.1 billion, up four percent year-on-year. The company technically made a loss in Q4, from a one-off $5.4bn tax bill on offshore earnings.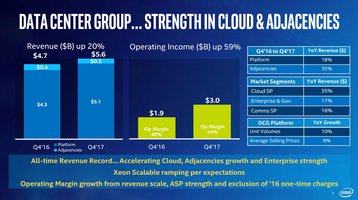 It's good to be king
In the past quarter, the data center group reached $5.6 billion in revenue, up from $4.7 billion same time last year. It made a total of $19.1 billion in 2017, up 11 percent year-on-year.
Meanwhile the company's Internet of Things division grew 21 percent in a single quarter, with revenue of $879m.
"2017 was a record year for Intel with record fourth-quarter results driven by strong growth of our data-centric businesses," Brian Krzanich, Intel CEO, said.
"The strategic investments we've made in areas like memory, programmable solutions, communications and autonomous driving are starting to pay off and expand Intel's growth opportunity. In 2018, our highest priorities will be executing to our data-centric strategy and meeting the commitments we make to our shareholders and our customers."
It is impossible to discuss Intel's earnings without mentioning serious architectural flaws discovered in several generations of the company's CPUs. The Meltdown and Spectre vulnerabilities also affect other chipmakers, but to a lesser extent.
Intel's handling of the situation has been criticised, with a software patch reportedly increasing the likelihood of server reboots. The company secretly told select customers not to install the patches, before finally sharing its concerns with the wider industry earlier this week. It also originally denied the fixes would impact performance, but has now admitted that it has observed slowdowns on affected systems.
The vulnerabilities were revealed too late to have any impact on Intel's Q4 bottom line, and with the company's near-monopoly on x86 chip sales, it is unclear what the long-term effects will be. Intel warned in its earnings release that Meltdown and Spectre could hurt future financial performance, along with customer relationships and the company's reputation.
In an earnings presentation, Krzanich said: "Security is a top priority. We will restore confidence in data security with customer-first urgency, transparency, and timely communication."
Later this year, Intel expects to release chips that address both flaws at a hardware level.