Intel's third quarter revenue reached $16.1 billion, beating analyst expectations, with record results for the company's Data Center Group.
Overall revenue increased by two percent year-on-year, but 'data-centric businesses' in particular grew 15 percent, on strong sales of the new Xeon SP processors and non-volatile memory, including products based on 3D Xpoint technology launched earlier this year.
"We're on track to a record year," said Brian Krzanich, Intel CEO. "I'm excited about our progress and our future. Intel's product line-up is the strongest it has ever been with more innovation on the way for artificial intelligence, autonomous driving and more."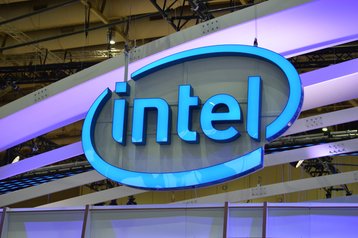 Rich getting richer
Intel reported that it had finished the third quarter with record operating income and record earnings: $1.01 per share (non-GAAP), and not $0.80 as predicted by Wall Street.
The Client Computing Group – its traditional CPU business that depends on the sales of desktops and laptops – saw no growth at all and revenue of $8.9 billion, but revenue of the Data Center Group was up 7 percent, to $4.9 billion.
That might seem like a lot, but the other 'data-centric businesses' did even better: the Internet of Things Group was up 23 percent, and the Non-Volatile Memory Solutions Group was up 37 percent.
The Programmable Solutions Group, which is responsible for field-programmable gate array (FPGA) business Intel obtained with the acquisition of Altera in 2015, posted $469 million in revenue – up 10 percent from a year ago.
The results mean that data center equipment now accounts for 45 percent of Intel's overall revenue, up from approximately 30 percent five years ago. This is in line with the company's shift from being a 'PC-centric' company to one that is 'data-centric'.
Considering its good financial performance so far, Intel has raised the full-year business outlook for the third consecutive quarter, hoping to earn $62 billion by the end of financial 2017.
"We feel great about Intel's transformation and where we are nine months into our three year plan," said Bob Swan, chief financial officer at Intel.