IPI has launched a new data center company focused on metro Edge facilities.
The company, known as RadiusDC, is sponsored by investment firm IPI Partners and aims to address the 'emerging needs of hyperscale and enterprise customers at the metro Edge.'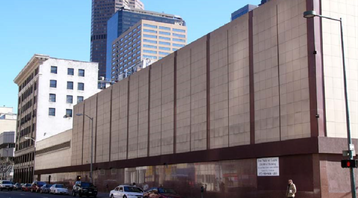 The new firm will initially offer space in the 1500 Champa carrier hotel in Denver, Colorado, acquired by IPI late last year.
RadiusDC is led by Michael Krza, who previously held COO and CFO roles at Flexential, and its predecessor entity, ViaWest. Joe Guerriero and Mitch Coan have joined the Company as Chief Operating Officer & General Counsel and Director of Strategic Finance, respectively. Guerriero was previously at Flexential, while Coan has previously held corporate development and strategy roles at Zayo Group.
"The metro Edge is an area of incredible growth and opportunity in a connectivity-driven economy," said Krza. "We're filling a gap in the market with our new data center platform, starting with the impressive facility at 1500 Champa. Expect to see much more from RadiusDC over the next year as we roll out upgrades in Denver and add other locations in key North American markets."
RadiusDC said it has a "robust pipeline of identified expansion opportunities" in other major urban centers and plans to continue acquiring and developing strategic data center capacity in major US metro markets.
Christopher Jensen, Managing Director of IPI, said: "IPI is excited to launch the RadiusDC platform and to have the opportunity to work with a talented and growing management team led by Mike Krza. Through RadiusDC, our goal is to address the evolving and growing needs of our core hyperscale and enterprise customer base at the metro edge in connectivity-rich locations."
IPI bought the 1500 Champa property from Morgan Reed Group, an independent real estate holding group that had owned the building since 2006. Deutsche Bank Credit Solutions and Direct Lending provided the financing for the acquisition, Financial terms of the transaction were not disclosed.
The three-story building has approximately 138,000 square feet of data center and office space, and the potential to support up to 10MW of power capacity.
RadiusDC said it is already investing in 1500 Champa, with the initial expansion construction phase on track to be completed by the end of 2022.
IPI has invested in a number of data center firms, and through Stack Infrastructure has largely been focused on large-scale facilities and wholesale. Stack was launched by investment firm IPI Partners in early 2019 after merging former Infomart and T5 assets into a new wholesale colocation provider. Though traditionally focused on the US, Stack has recently made major moves to expand internationally, including in mainland Europe, Australia, Japan, and South Korea.