The Irish government has approved the terms and conditions of ORESS 1, a massive auction for offshore wind.
The first such auction under the government's Renewable Electricity Support Scheme, ORESS 1 could lead to up to 2.5GW of renewable energy being added to a struggling grid.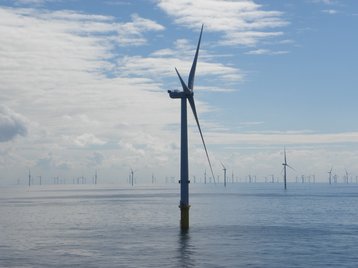 "The publication of these ORESS 1 Terms and Conditions is another massive step forward – for offshore wind, for Irish climate leadership and towards Ireland's future as an international green energy hub," Minister for the Environment Eamon Ryan said.
"The first stage of this transformative auction will start before Christmas and it sets us on a path to powering many more of our homes and businesses from our own green energy resources over the coming years."
A final ORESS 1 auction calendar will be published by grid operator EirGrid 'shortly.' The pre-qualification stage will launch in December, while the qualification stage and the auction process will take place in the first half of 2023. Final auction results will be published by June 2023.
Projects awarded a Maritime Area Consent will be able to take part in the auction, with seven such projects given consents this spring.
Any offshore wind projects developed via ORESS will be required to make Community Benefit Fund contributions for the lifetime of the project, typically 25 years.
In total, at least three offshore energy auctions are currently planned for this decade.
The wind power will provide some relief for a grid that has struggled in recent years, in part due to the rapid growth of data centers - that was not matched by an equal growth in power production and transmission.
EirGrid claims that data centers use around 17 percent of the nation's energy as of 2021. That is expected to increase to 28 percent by 2030. They have also taken up a large proportion of renewable energy (via PPAs).
The data center industry disputes some of EirGrid's figures, saying it only uses a quarter of the energy the sector was allotted, and that EirGrid failed to invest in the grid.
The grid has enforced a de facto moratorium on new data center grid connections in the Dublin area, saying the grid is unable to accommodate facilities and risking blackouts. Digital Realty's Interxion has told the local press it has paused plans for a $300 million expansion in the area as a result of the restrictions put in place; at least 30 other projects have reportedly also been halted as a result.
Earlier this year, Dataplex entered bankruptcy after it said it waited over a year to get grid power approval, only to be refused power.