Plans to build a €30 million data center to host the Republic of Ireland's public sector data on the Backweston campus in Celbridge (Dublin) could be held back by the country's statutory planning process, according to a tender issued by the Office of Public Works (OPW) seen by the TheJournal.ie.
The OPW, which manages the government's property portfolio, addressed an estimate to the engineering consultants, detailing its proposal for a 7,000 square meter (75,350 sq ft), two-story data center.
White coats and white space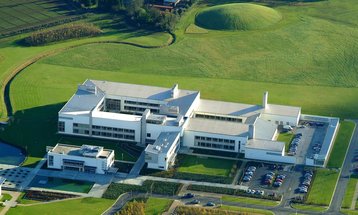 Under the terms of the proposal, construction would begin early next year and would be completed within eighteen months. Another tender will soon be issued to secure a building contractor for the project.
The Backweston campus is a €200 million development launched by the OPW in 2002. It currently houses the State Laboratory and the Department of Agriculture, Food and the Marine (DAFM) Laboratories.
The State Laboratory undertakes analyses required by government departments, such as the verification of food quality and safety, or screening for illegal practices in the pharmaceutical or automotive industries.
The DAFM laboratory offers services to the country's farming and agri-food businesses, and is shared by two veterinary group laboratories, the Pesticide Control Service, the Dairy Science Laboratory and the Seed Testing and Plant Health Laboratories.
Ireland's planning laws remain a hot topic for the data center industry and communities in areas of interest for potential developments.
This is at least partially due to Apple's repeatedly delayed and ultimately scrapped data center campus in Athenry; cancellation of the project was caused by a handful of objections from the local residents, with the decision process drawn out by the country's appeals system.
To stop this from happening again, Leo Varadkar's government proposed a planning reform to classify data centers as 'strategic developments,' meaning that facilities above a certain size would be fast-tracked and could not be held back at every stage of the planning process as they currently can.