The construction of Amazon's €1bn ($1.07bn) data center campus on the outskirts of Dublin may be significantly delayed as Allan Daly, an engineer from Athenry, has voiced concerns over the hyperscaler's environmental impact.
The work on the first of eight potential data centers, spanning 223,000 square feet (21,000 sq m) and costing up to €200m ($212m), was expected to begin this year and finish in 18 months. Codenamed "project G," the Mulhuddart facility would bring the company's data center count in and around the Irish capital close to ten, with many more across the country.
Green grudge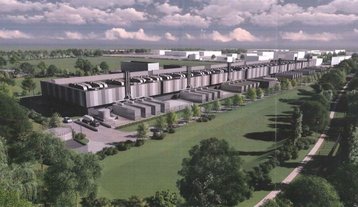 In a plea to the Fingal County Council - responsible for the planning permission - and his appeal to the Commercial Court, Daly has stated that the facility's non-disclosed energy requirements could be at odds with the country's available green energy. He questioned whether the country's renewable energy infrastructure would be able to provide enough power to the planned facilities, calling for an assessment to be made before permission is granted.
The Irish Department of Communications, Climate Action and Environment is currently auditing the country's renewable energy framework, but has not set a clear deadline for the completion.
Daly is one of the people responsible for the campaign against Apple's €850m ($910m) facility, which he also protested on environmental grounds, asking the High Court for a judicial review of the case.
Both Amazon and Apple claim their hyperscale data centers will use 100 percent renewable energy, purchasing it from a specific, unnamed supplier. This, Daly states, seems highly dubious when the country's entire renewable power reserves are directly dispatched to the national grid.
"Any agreement to somehow 'purchase' existing renewables from energy suppliers creates a false nexus between Ireland's existing wind farms and the development proposal," he said.
The billion dollar question
The impact of data centers on global energy consumption has been a subject of interest for a wide variety of organizations. Last year, a report commissioned by the US government found that the amount of energy consumed by data centers was growing slower than expected, due to emergence of more efficient CPUs and new technologies like virtualization, and might even start going down in the years to come.
However, another study found that in 2015, data centers worldwide consumed approximately 416.2tWh of electricity, compared with the 300tWh it took to power the whole of the UK. According to professor Ian Bitterlin of the University of Leeds, data center energy usage roughly doubles every four years. 
The Commercial Court is expected to give its judgement on the Mulhuddart facility later this month.