Italy's biggest telecom trade unions have called for a strike over Wind Tre's plans to spin off its network business.
Earlier this month, Italian telecom company Wind Tre notified trade unions of plans for Swedish investment fund EQT to acquire a 60 percent stake in its infrastructure business, including radio access, fixed access, and transport network assets. Previously, it had announced it was in discussion to spin the business off.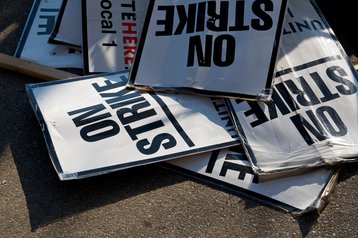 Wind Tre plans to transfer 2,000 of its 6,500 employees in Italy to a new technology and wholesale business unit NetCo, including operations, finance, HR, legal, auditing, business development, and service management employees. The process is scheduled to be finalized later this year.
The unions voiced their concerns at the time, with Fistel CISL calling Wind Tre's plan 'a technological impoverishment of the country's second-largest telephone operator, that also has probable repercussions in the area of employment.'
Along with SLC-CGIL, and UILCOM-UIL, Fistel-CISL announced strikes on April 20.
A full-shift strike will take place on May 4, while a strike for extraordinary and ancillary services will run from May 2 to May 31.
"As trade union organizations we have, once again, reiterated our total opposition to the spin-off, which represents a mere short-term financial transaction, an economic efficiency without any industrial prospects and which, we fear, will bring employment repercussions in the future," said the unions.
On top of the strikes, the unions have urged workers not to sign anything presented to them by Wind Tre.
Wind Tre was created by a history of mobile mergers. Italian mobile operator Andala was launched in 1999 and then acquired by what was then Hutchison Whampoa and renamed H3G/Three Italy in 2000. Elsewhere, Wind was established in late 1997 by Enel, France Télécom (now Orange), and Deutsche Telekom and sold in 2005 to Weather Investments and then Veon in 2011. CK Hutchison then acquired part of Wind in 2016 and renamed it Wind Tre, before acquiring the entire company in 2018.
EQT hasn't commented publicly on the proposed deal. Separately, it has been linked with a potential takeover of data center operator Global Switch.