A local election could decide whether a data center will be built on a golf course in Itasca, Illinois.
In August 2020, Itasca Golf Investors LLC submitted an application to convert approximately 34 acres of the Itasca Country Club's property to a two-story data center.
But the proposals were met with resistance from locals, citing a desire for open space and preserve the club's almost 100-year history and local scenery. The submitted plans included landscaping to shield the data center with trees, but this was not enough to placate some locals, who have drawn hundreds of signatures in petitions against the proposals.
In November, the club withdrew its petition for the proposal. Larry Swets, president of Itasca Golf Real Estate Holdings, told local newspaper the Daily Herald that the owners were 'taking a different approach', but didn't provide details.
"We are now retooling the project to focus on the feedback we received from Itasca residents and stakeholders in order to deliver a thoughtful win-win data center project," Swets said.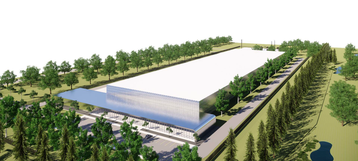 Itasca Village Board elections could change view on data center proposal
Upcoming elections on the Itasca Village Board could have an impact on the final outcome. Nominees on the ballot are divided on the issue with some arguing the proposals should at least be considered. Elections will be held in April. One of the nominees on the ballot includes Swets' brother, Eric, who is CEO of Swets Construction Inc. and an Itasca plan commissioner. Eric has recused himself from the data center issue in his latter role due to his brother's involvement, and says he will continue to do so if elected.
Itasca Country Club was founded in 1915, was acquired by Itasca Golf Investors LLC in 2014. While the data center plans are still in the proposal stage, analysis submitted as part of the proposal estimates the facility could range in size between 150,000-450,000 sq ft (14,000-41,800 sq m) and support between 12.6-37.8MW of power. The proposal suggests the facility could generate more than $1 million per year in tax revenues for the local area.
In April 2020, NTT announced it was developing two new facilities in Itasca due to come online in 2021. The 19-acre campus will have two buildings offering a total of 72MW and 250,000 sq ft (23,200 sq m), split evenly across the two buildings.