JLand Group Sdn Bhd (JLG) and Japanese conglomerate Mitsui are partnering for a data center in Johor, Malaysia.
JLG, the real estate and infrastructure arm and wholly-owned subsidiary of Johor Corporation (JCorp), announced this week that it has signed a Memorandum of Understanding (MoU) with Mitsui & Co., Ltd., through its wholly-owned subsidiary Mitsui & Co. (Malaysia) Sdn. Bhd.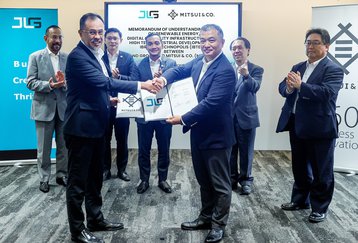 The MoU is to 'jointly explore prospective business opportunities and strategic project developments' in Ibrahim Technopolis (IBTEC) including Sedenak Tech Park (STeP), over the next two to three years.
Under the MoU, the two companies are to conduct a joint feasibility study on the development of a hyperscale data center and a solar farm to power the data centers in STeP. The companies will form a joint venture partnership to invest, develop and operate these projects.
"In an increasingly data-dependent digital economy, we are proactively identifying and implementing renewable energy sources for the future of decarbonizing data centers," said YBhg Datuk Syed Mohamed Syed Ibrahim, president and chief executive of JCorp and chairman of JLG. "This initiative is one of the major milestones for JCorp's vision of a sustainable future, while ensuring the state and country meets its decarbonization aspirations."
YBhg Datuk Sr Akmal Ahmad, director, Real Estate and Infrastructure Division, JCorp added: "JLG is proud to reinforce our contribution to Johor's renewable energy goals, while catering to the growing needs of industrial customers in STeP that requires green and clean energy as secondary power supply."
"We are proud to be among the pioneers in hyperscale green data centers in Johor and are excited to partner with Mitsui and RE co-developer to advance the decarbonization of data centers through clean power procurement," said Datuk Akmal.
Both Yondr and ChinData's Bridge DC are developing facilities in Sedenak Tech Park. The park, formerly known as Kulai Iskandar Data Exchange (KIDEX), is nestled in the heart of the larger 7,290 acres of Sedenak Technology Valley, an industrial and technology hub in the south of the country across the border from Singapore. Johor Corporation owns the park.
In July, Japanese conglomerate Mitsui and investment firm Fidelity formed a joint venture to build hyperscale data centers in Japan that would be operated by Fidelity-owned Colt DCS. Earlier this year EdgeConneX acquired Indonesian colocation firm GTN, a joint venture founded by Mitsui and Lippo Group-owned IT distributor and integrator, PT Multipolar Technology.