The Johor state government in Malaysia is looking to develop a global data center hub in Iskandar, as part of a second cyber city to rival Cyberjaya in Selangor, according to various reports earlier this month. This project could be built on the 50,000 acre plot of land in Sedenak, a town located just outside Johor Bahru.
"We have identified about 50,000 acres (20,234 hectares) of land here, which we will zone as potential areas to be developed into Cyberjaya Johor Baharu," said Datuk Seri Mohamed Khaled Nordin, the chief executive of Johor in a report on Astro Awani.
"Several investors have shown interest in the project, and the area could become a centre combining various technologies and industries," he said. An official announcement is expected to come in June or July this year.
A cunning plan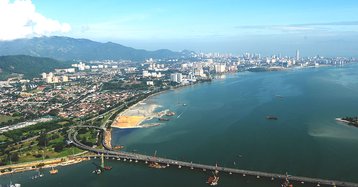 Located about 50 km north-east of Johor Baru City Centre and in the district of Kulai, Sedenak is located within the Senai-Kulai zone, and is one of five flagship development zones of Iskandar Malaysia, according to a report on Malaysia's The Star.
Malaysia has its sights set on businesses in Singapore, setting up competitively priced data centers across the border from the rapidly developing city-state.
Last year, Telekom Malaysia announced its plans to build a $38 million data center in the Nusajaya Tech Park, while Malaysian firm Puncak Semangat Technology publicised its investment of around $42 million to expand the data center and cloud computer facilities near Senai Airport in Johor a month later.
For perspective, Iskandar covers an area that is three times bigger than Singapore and is twice the size of Hong Kong, according to the FAQ page on the Iskandar Malaysia website.
In our report last year, Chiew Kok Hin, group chief executive officer of AIMS had expressed optimism about turning the tables on data centers in Singapore and Hong Kong by attracting customers to set up their primary data centers in Malaysia. He pointed to advantages including cheaper access to land and lower construction cost.