JPMorgan Chase and Micro Focus have joined the Low Carbon Patent Pledge, a group sharing patents for low carbon technologies.
The companies join Microsoft, HPE, and Facebook in an alliance that is sharing some 450 patents for various energy-efficient technologies. Another business joined on the same day, the Majid Al Futtaim Group, an Emirati real estate and retail conglomerate belonging to the eponymous billionaire.
DCD has asked JPMorgan Chase what technology it is sharing, as the site does not yet list any patents from the new members.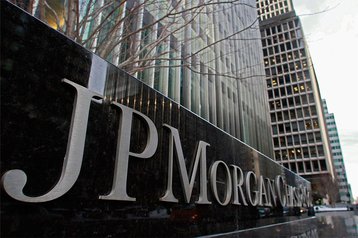 More members welcome
As part of the Pledge, all members agree to offer royalty‐free licenses to certain specific patents when used for 'the generation, storage, or distribution of low‐carbon energy from solar, wind, ocean, hydropower, or geothermal sources'. The site lists 450 patents from the initial three sponsors - Facebook, HPE, and Microsoft.
JPMorgan Chase has pledged patents that help cool and ventilate data centers and increase HVAC system efficiency. Responding to a query from DCD, JPMorgan Chase said that the full details of its shared patents would be on the Low Carbon Patent Pledge website next week, but, in the meantime, shared links to four data center HVAC patents:
The patents pledged by enterprise software company Micro Focus include technologies that improve the management of wind turbines and methods for more efficiently distributing power.
Patents already on the list include some relating to areas such as power and capacity management, immersion cooling enclosures and other cooling concepts, and data center architecture. The list also includes some Microsoft patents for a submerged data center.
"Technological innovation will be key for the world to reach the goals of the Paris Agreement," said Daryl Wooldridge, managing director and head of intellectual property, JPMorgan Chase. "At JPMorgan Chase, we are committed to doing our part in advancing the transition to a low carbon economy. Making critical technology available to innovators who are developing solutions that address climate change is critical to that effort."
"This Pledge is an important tool in achieving the cross-industry cooperation that is essential to achieving dramatic gains in adopting low carbon resources," added Sarah Atkinson, Micro Focus' director of environmental, social & governance. "We are excited to join the Pledge as a way to scale the impact of our product offerings that enable reduced energy consumption in data centers and IT environments."
Ibrahim Al Zubi, Chief Sustainability Officer at Majid Al Futtaim commented: "We realize that technology, innovation, and collaboration are critical pillars in the world's fight against climate change. At Majid Al Futtaim, we rely heavily on innovation in our journey to be Net Positive in carbon and water by 2040. We believe the onus is on large corporations to incubate, nurture, and grow innovators, especially within our communities. We are proud to be part of the initiative and look forward to further contribute to the global efforts against climate change."