San Francisco-based start-up Jut has exited stealth mode and announced the open beta stage of the eponymous 'operations data hub'.
The Jut platform aggregates logs, metrics and events in real-time, offering enhanced visibility into performance of software, no matter where it runs – be it on premise or in the cloud. It enables the IT teams to analyze the resulting data and present the findings through rich visualizations.
Jut is being positioned as especially suitable for organizations that follow DevOps methodology.
The company raised $20 million in November 2013, and has been quietly developing its code ever since.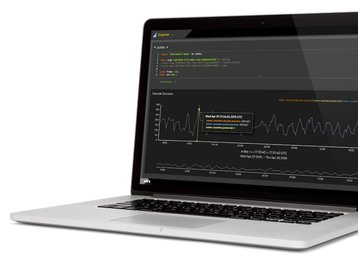 Defeating FrankenOps
Jut was founded by a team of former Riverbed executives led by Steve McCanne - the networking company's former CTO. It aims to develop a single platform that can replace multitudes of point solutions currently used to manage and monitor application performance – the sprawl of back-end software some customers call 'FrankenOps'.
Jut leverages its own dataflow programming language, Juttle, to correlate application performance and user activity to the state of the hardware. Creators of the platform describe it as a mix of Google Dataflow and Tableau.
The Jut data engine maintains two separate data stores – one for unstructured data like event logs, and another for structured data, for example hardware metrics. The platform intelligently combines the two to help find bottlenecks and respond to anomalies quicker.
Jut is being offered through a 'Hybrid SaaS' model - software is deployed on-premise, but can be managed remotely from any device with an Internet connection.
"Just about every business today runs on software. As a result, the health of the business depends on understanding the health of the software - how software performs, how users are interacting with it, where the bottlenecks lie and where it can perform better," said McCanne.
"As companies realize that software is core to the business, the people developing the software are in reality developing the business. We want to empower DevOps teams with a holistic, unified platform that enables them to correlate all their data and make bigger decisions about the software that powers the rest of their organization."
Jut is available immediately, free to use at any scale during the open beta period.