UK data center operator Kao Data has announced a new 16MW facility in Slough.
The company this week said it has opened the new data center to the west of London.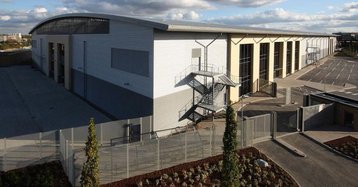 The new facility will match the design and operational blueprint of Kao's Harlow campus and provide an SLA-backed PUE of 1.2, even at partial loads. The facility will also be Nvidia DGX-Ready certified and OCP-Ready.
"With this move, we are excited to be strengthening our data center footprint across the UK and establish ourselves within the world's second-largest data center hub," said Lee Myall, CEO, Kao Data. "Kao Data has seen tremendous growth over the last twelve months, and the launch of our Slough facility is the next step in our continuing development."
The facility will be powered by 100 percent renewable energy, and its backup power generators powered by hydrotreated vegetable oil (HVO) from the outset.
Kao was Launched in 2015, and its Harlow campus opened in 2018; the facility promises to have around 150,000 sq ft (14,000 sq m) of white space, and a total of 35MW of power across four phases. Nvidia's Cambridge-1 supercomputer sits within Kao's Harlow facility.
In October, Infratil Limited announced it would invest up to £120-130 million ($163-177m) in Kao and take a 40 percent stake in the company alongside Legal & General Group and Noé group's Goldacre. The company also acquired two UK data centers with a long-term anchor lease from a large financial services business, though it never detailed their location.
Update: JLL said it advised Kao on the £100 million ($135m) sale and leaseback of two data centers in west London; the company said the two facilities total 300,000 sq ft (27,800 sqm).