UK data center firm Kao is to develop a new data center in Manchester.
The company, which to date has built facilities in the south of England, this week announced plans for a 40MW facility in Kenwood Point.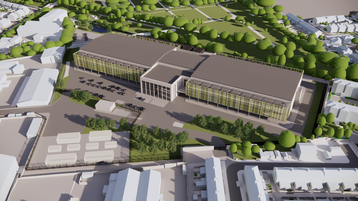 Kao has secured a 39,000 sqm (419,800 sq ft) ex-industrial site and said the new nine-data hall data center is due to come online in late 2025. The project will see around £350 million ($440m) invested.
The facility will be OCP-Ready and Nvidia-DGX Ready certified, aim to deliver a PUE of 1.2, be powered by 100 percent renewable energy, and utilize hydrotreated vegetable oil (HVO) in its generators. The company said the site will incorporate heat re-use capabilities to support local communities in its immediate vicinity.
It is Kao Data's first facility in the north of the country, with the company saying it is the "first of its new Tier II locations in Europe."
"Our move into Manchester marks an important next step in the continued evolution of our organization, and we're excited to bring our industry-leading data center platform to one of the UK's most influential technology and business hubs," said Spencer Lamb, chief commercial officer, Kao Data. "We believe our new facility will set a new standard for sustainable data centers within the region and will provide a piece of foundational infrastructure that supports both Northern England's advanced computing clusters, and the UK Governments' ambitions to become a technological and economic powerhouse for HPC and AI."
Kao was launched in 2015, and its Harlow campus opened in 2018; the facility promises to have around 150,000 sq ft (14,000 sq m) of white space, and a total of 35MW of power across four phases. A second building at the campus – which houses Nvidia's Cambridge-1 supercomputer – was announced last year. The company has opened a second facility at Kao Park, and a data center in Slough. It also operates a former Barclays data center in Northolt.
Datum, Lunar Digital, Pulsant, and Equinix operate data centers in Manchester. Atlas Edge is planning two facilities in the area, and local government officials are aiming to refurbish a vacant former Barclays facility. A small government data center has been installed in a Victorian bathhouse in the city.
More in Construction & Site Selection