Design and purpose-built data center engineering consultancy firm Keysource has struck a deal with a mystery cruise operator to build a turnkey data center in Uxbridge, UK.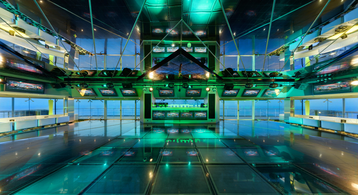 Cruisin' out of the EU
The facility will host services to monitor the company's 14 cruise ships' performance and to identify potential issues, and will house the data recorded at the client's UK customer services center.
"This new solution will be developed in line with the latest regulations and industry standards," Jon Healy, associate director at Keysource, said.
"It will guarantee long term reliability and availability of critical services to the business but ensure they are delivered in a sustainable and efficient way, maximizing the return on investment."
The cruise operator was not named, but there are clues that it is MSC Cruises, the world's largest privately owned cruise company. Keysource said that its client recently relocated its staff from Italy and central London to Uxbridge, something that MSC Cruises - which was founded in Italy - is in the process of doing.
Keysource was purchased by property service provider Styles&Wood last year for an initial cash consideration of £2 million ($2.44m) in cash and shares and pending a £5m ($6.1m) cash and shares payoff in 2018 subject to the company's financial performance.