UAE firm Khazna Data Centers is expanding internationally and announced plans to enter Egypt with a new data center in Cairo.
Khazna is to partner with local IT firm Benya Group for a new $250 million data center in the Maadi Technology Park in the Egyptian capital.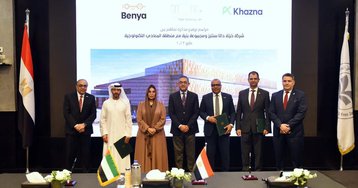 The data center will offer 25MW of capacity, with plans for expansion of up to 50MW, across 40,000 sqm (430,550 sq ft). Construction is expected to commence later this year, with completion targeted for 'within three years'.
"We are thrilled to announce our partnership with Khazna, which will enable us to enter the hyper-scale data center construction sector with full force," said Ahmed Mekky, chairman and CEO of Benya Group. "The new hyper-scale data center will not only meet the needs of the Egyptian market but also, through its extensive capabilities, serve African and Middle Eastern countries."
Hassan Alnaqbi, Khazna Data Centers CEO, added: "This collaboration with Benya Group marks a significant milestone in the expansion of Khazna's regional presence. We are confident that our expertise and track record in delivering high-quality hyper-scale data centers combined with Benya's local knowledge and experience, will enable us to provide customers with the best-in-class data center services in the region transforming Egypt into a vital hub for data storage supporting the growth of its digital economy."
The companies said the new facility was the "first in a series" of data centers the two companies aim to develop in the country aiming to "leverage Egypt's strategic location".
According to its website, Khazna currently operates nine data center sites across the UEA, with six more under development. The number of facilities under the company significantly increased after the merger with G42 and Etisalat Group, first announced in October 2021. The merger between the three made Khazna the UAE's largest data center provider.
In an interview with the National, Alnaqbi said Khazna is exploring further expansion into Saudi Arabia, Kuwait, and Morocco, with greenfield investments planned with partners.
"We realize that to become regional and global, we have to step outside the UAE," he said. "Egypt is sitting in a very good geographical location between Europe and the Middle East, sort of a gateway between East and West. A country like Egypt with a huge population has a lot of potential."
More in Construction & Site Selection