Latin American data center firm Kio has acquired a data center in Colombia.
The I Squared Capital-owned company this week announced it has bought a site in the capital city, Bogota. The terms of the deal and which company it was purchased from weren't shared.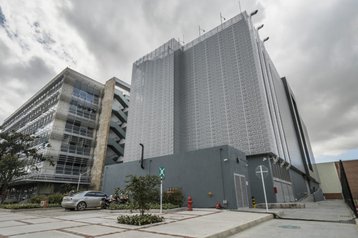 Update: Local press have since confirmed the acquired facility was the Zetta Data Center Complex, developed by TC Latin America Partners and Grupo ZFB, and located in the Free Zone of Bogotá.
The 5,000 sqm (53,820 sq ft) facility, known as BOG1, has two 2,000 sqm (21,525 sq ft) data halls and 6MW of capacity. The company said the site has additional land to build a second data center that would take the campus to 12MW.
"For Kio, it is highly strategic to continue expanding in LATAM and we have chosen Colombia because we are convinced of the economic potential and the growing demand for our services in this great country. We are working very well with our investment partners, I Squared Capital, in the execution of our expansion plans," said Santiago Suinaga, Kio Data Centers CEO.
Founded in 2002 and owned by I Squared Capital since 2021, Kio operates eight core data center sites in Mexico as well as facilities in Spain, Panama, Dominican Republic, and Guatemala. Last month Kio announced plans for a third data center in Querétaro, Mexico.
The company recently broke ground on a second data center in Spain; the facility will offer 1,000 sqm (10,760 sq ft) of data hall space and be built to Tier IV quality. Kio previously had two facilities in the US, but sold them to Zayo in 2017; both are now operated by DataBank.
The Zetta complex launched in 2021. Grupo ZFB has previously developed five other data centers in the country totaling around 24,000 sq ft.
Diego Gaitán, general manager of Desarrolladora de Zonas Francas, of the ZFB Group, said: "This is a great opportunity to consolidate Colombia's position as a technological development node in the digital world. The Bogotá Free Trade Zone has connectivity, security, human talent, and sustainability conditions that make it attractive to the world's large digital operators. In addition to the benefits granted by the free regime, this alliance is also a vote of confidence in the projects developed by Grupo ZFB."
TC Latin America Partners partner, Andres Escobar, added: "We are very satisfied with the successful closing of this transaction, which reiterates the validity of our investment thesis and allows us to deepen our regional strategy aimed at greater portfolio diversification and better risk management."