A start-up led by the former president of Intel, Renee James, has set its sights on the data center market.
64-bit Arm-based processors from the new company, Ampere, are sampling now and are expected to be in production in the second half of the year.
Ampere's products operate at up to 3.3 GHz, with a power envelope of 125 watts.
A new player has entered the game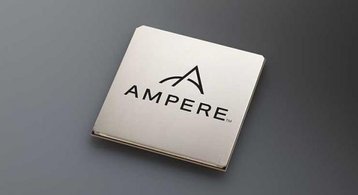 "We have an opportunity with cloud computing to take a fresh approach with products that are built to address the new software ecosystem," James said.
"The workloads moving to the cloud require more memory, and at the same time, customers have stringent requirements for power, size and costs. The software that runs the cloud enables Ampere to design with a different point of view.
"The Ampere team's approach and architecture meets the expectation on performance and power and gives customers the freedom to accelerate the delivery of the most memory-intensive applications and workloads such as AI, big data, storage and database in their next-generation data centers."
Ampere has partnered with Taiwan Semiconductor Manufacturing Company (TSMC) - the world's largest independent semiconductor foundry - to produce the chips, Dr BJ Woo, TSMC's VP of business development, said.
She added: "Ampere's world-class architecture with its advanced memory performance, low power and TCO are addressing the critical demands of hyperscale cloud computing customers. We look forward to our collaboration with Ampere and congratulate them on this exciting launch."
In a product brief on the company's website, Ampere shared some more information on its upcoming products:
Processor subsystem:
32 Arm v8 64-bit CPU cores up to 3.3 GHz with Turbo
32 KB L1 I-cache, 32 KB L1 D-cache per core
Shared 256 KB L2 cache per 2 cores
Memory:
32 MB globally shared L3 cache
8x 72-bit DDR4-2667 channels
Advanced ECC and DDR4 RAS features
Up to 16 DIMMs, 1 TB/socket
System resources:
Full interrupt virtualization
I/O virtualization
Enterprise server-class RAS
Connectivity:
2 lanes of PCIe Gen 3, with 8 controllers
4 x SATA Gen 3 ports
2 x USB 2.0 ports
The launch of Ampere was welcomed by organizations including Red Hat, Oracle, Lenovo and, of course, Arm.
Dr Leendert van Doorn, distinguished engineer at Microsoft Azure, said: "We're excited to welcome Ampere Computing to the Arm64 server ecosystem.
"As a new company with a leadership team that has years of experience, Ampere Computing helps increase innovation in the Arm64 server ecosystem and their roadmap is well aligned with the needs of our hyperscale cloud workloads."
Ampere is based in Santa Clara, California, with its headquarters - according to Google Maps - just a four-minute drive from Intel's offices. In addition to James, the chief architect, Atiq Bajwa, spent 30 years at Intel, the EVP of hardware engineering, Rohit Vadwans, worked there for 26 years, and the CFO and COO, Chi Miller, was both an Intel and Apple executive. Senior fellow Greg Favor comes from AMD.
The company is backed by asset management company The Carlyle Group, which also owns data center REIT CoreSite and previously owned Spanish data center operator Itconic, before its acquisition by Equinix (a company the group has also invested in).