Following in the footsteps of hyperscale data center operators like Facebook and Google, LinkedIn has developed its own network switch dubbed 'pigeon'.
The device enables 100G connectivity, supports up to 3.2Tbps total throughput and can be used as either 'leaf' or 'spine' switch with some capabilities of a server. It will be deployed at scale in the upcoming 8MW LinkedIn data center in Hillsboro, Oregon.
Pigeon is the first product to emerge out of Project Falco, an initiative launched by the social network in 2015 to add more speed and transparency to its networks.
"We are not venturing into developing our own switch because we aspire to become experts in the switching and routing space, but because we want control of our destiny," said Zaid Ali Kahn, director of Global Infrastructure Architecture and Strategy at LinkedIn.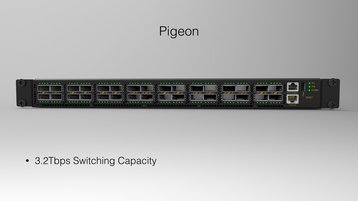 Choose your destiny
According to Kahn, in 2013 LinkedIn began experiencing latency problems across its data centers but the reasons were not detected by conventional logging mechanisms. Eventually it turned out that high latency was caused by short burst buffer overflow, when third-party vendor silicon was unable to handle sudden increases in data packet rates.
The issue was exacerbated by the fact that the buffers were not fully exposed to developers in order to protect proprietary vendor technologies.
Additional problems with proprietary switches included the bloat of unnecessary software features, lack of Linux-based platforms for automation tools - like Puppet or Chef - and high costs of scaling the software licenses and support.
To increase the speed of data exchange while maintaining control of the network layer, LinkedIn established Project Falco, which promptly started work on a new switch. The requirements included the ability to run common infrastructure software and tools directly on the switching platform, for example telemetry, alerting, logging and security.
"When we started to look at the kind of switch we wanted to have, the microburst/buffer problem which got us thinking down this path was just a single dimension. Having control of programmability on switches opened up a world of possibilities in our ambitions of a programmable data center," Kahn explained.
Pigeon is based on the latest Tomahawk 3.2Tbps silicon, the 32X100G chip developed by Broadcom. It has already been put to the test in a production environment, and will now see a wider roll-out, when LinkedIn opens its third domestic data center sometime in 2016.
The company said it will continue naming its upcoming switch platforms after different types of birds.