Australian energy firm LMS Energy has filed permission to install six modular data centers at its Biogas facility outside Melbourne in Wyndham, Australia.
The company has filed for permission to allow a "modularized data center ancillary to an existing renewable energy facility."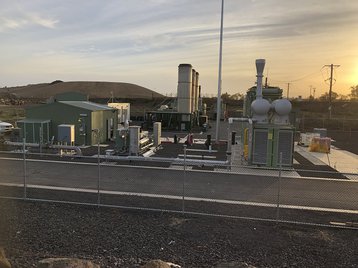 Star Weekly reports that LMS Energy has operated the Wyndham Renewable Energy Facility in Victoria since 2011. The facility, which has five generator modules powered with biogas generated from nearby landfill, outputs more than 43,000 MWh of energy per year into the local Powercor distribution network.
LMS Energy is proposing to install and operate six data center modules to be powered by the renewable electricity generated on-site. The cost would be an estimated AU$3 million.
"The most unique aspect of the proposed development is its place as the first bio-energy powered data center in Australia," the planning permit application lodged with the council reads.
Phase 1 of development would reportedly see two modules installed in 2021. Phase 2 would add four more 12 meter long modules installed. The facility would operate automatically without any on-site staff aside from periodic visits from maintenance technicians.
"Apart from construction, decommissioning, and maintenance activities, the site will be unmanned, meaning there will be no increase to local traffic and transport activities," the planning application reads.
"The primary use of the data center will be to house information technology processing equipment including servers, network links, and other components for the purpose of storing and processing data."
Though it doesn't name the company, the firm providing the data centers is likely DC Two.
The Australian data center firm recently announced it had sold a modular Edge facility to Joule Energy, a subsidiary of LMS which would be installed at a biogas plant in west Melbourne.
DC Two said at the time the two companies were working towards formal agreements relating around installing multiple DC Two owned-and-operated data center modules at the site.
DC Two has two other modular campuses in development on a solar farm in Collie, Western Australia, and a wind farm north of Perth, and opened its Bibra Lake data center in Perth earlier alongside an existing facility in the nearby Osborne Park.