The environmental nonprofit Citizens for Fauquier County and 10 local residents have filed a lawsuit in the Fauquier Circuit Court to try to stop an Amazon data center in Warrenton, Northern Virginia.
The group seeks to overturn the Town Council's decision to approve an Amazon Data Services request to build a 220,000 square foot (20,400 sq m) data center on its property, using a special-use permit.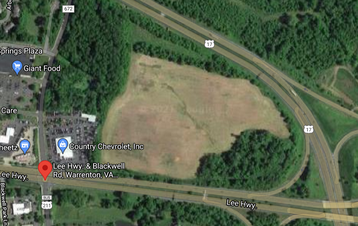 In the lawsuit, the group alleges that council members violated the town's zoning ordinance and Comprehensive Plan when they approved the plan. This, they claim, renders the decision invalid.
"This suit recognizes that the town of Warrenton has ignored its own zoning ordinances, its own comprehensive plan, its own legally prescribed processes, and the clearly expressed desires of the vast majority of its citizens in approving this data center," CFFC president Kevin Ramundo said.
More than 130 locals spoke at the meeting where the facility was approved. Oscar-winning actor Robert Duvall was among those that come out against the project, with critics citing potential impact around noise, property values, traffic, environmental concerns, and worries over new transmission lines.
The lawsuit, filed by CFFC's lawyers Whiteford, Taylor & Preston, claims that the council approved the permit "despite a lack of adequate submission under the Town's Zoning Ordinance." They allege that insufficient information was shared, which violates town ordinances.
They claim that Amazon also failed to provide some of the information required by the ordinance, including a traffic-impact analysis, noise analysis, odor analysis, lighting and tree preservation plans, and details of a proposed substation.
Amazon said in its application that the site would cause "very little traffic," including during construction, and said that it would not produce any odors. It did commission a noise study, but added the final study only after the vote had occurred. It also promised to provide a lighting and tree preservation proposal in the future.
The lawsuit also alleges that there was not a second public hearing, and claims that residents could have their quality of life impacted by noise and light.
A substation was originally planned at the site, but utility Dominion Energy last year said that it would build one nearby and connect to it by underground distribution lines. That, one plaintiff alleges, could disrupt them as their property is in the way.
The lawsuit also states that the council amended the zoning ordinance through a resolution, which they claim is invalid because the council has to amend it through an ordinance.
CFFC previously sued Warrenton Town Clerk Stephen Clough, claiming that he violated the Virginia Freedom of Information Act by withholding thousands of documents related to the data center project. But the circuit court ruled against them, claiming that the withholding of documents was "appropriate."