A local council in northwest England has been given a Government grant to install solar panels on its data center.
The Blackburn with Darwen Borough Council, located in Lancashire, has been given £2.25 million from the UK Government through its Public Sector Decarbonisation Scheme.
The money will be used to implement energy efficiency and renewable energy schemes in ten local authority-owned buildings, inlcuding the council's data center, which will get a new UPS to replace the current "inefficient" equipment, as well as solar panels.
Missed DCD's Towards Net Zero conference? Click here to catch up and watch it back on demand
Blackburn targets Carbon Neutral goal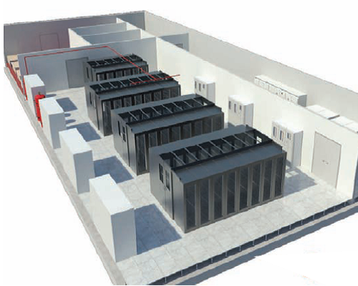 Based in an old council storage facility on the edge of Blackburn, the Council data center has 200 sq m (2100 sq ft) of computer space, dedicated onsite substation, and a 1MW generator. As well as hosting its own data, the council offers hosting services to local businesses.
A report to the executive board said the scheme will reduce emissions from the council's estate by around five percent. "The programme is expected to save 290 tonnes of carbon dioxide a year and reduce energy bills by circa £200,000 per annum. The Decarbonisation Programme will contribute to the council's Climate Emergency Declaration to be carbon neutral by 2030."
Cllr Phil Riley, Blackburn with Darwen Council's regeneration boss, said: "This is really welcome money which helps improve the energy efficiency of council buildings as part of our green agenda."
"This government grant is welcome and will help 'green' council buildings and set an example," added Cllr Paul Marrow.
The UK Public Sector Decarbonisation Scheme was launched in autumn 2020 and offers £1billion in grant funding to decarbonize Public Sector buildings. Ran through Government body Salix, the aim is to help make Government buildings more energy-efficient and install low carbon heating measures such as insulation, glazing, heating controls, and heat pumps.
The Council's data center was designed by Capitoline, and built by Sudlows, with technology including a flywheel UPS and free cooling, and a target Power Usage Effectiveness (PUE) of 1.4. The Council and Sudlows won an award from DCD in 2010, for innovation in the medium data center.