Satellite firm Lynk has signed a new distribution deal with Vodafone Ghana.
The satellite company – formerly known as UbiquitiLink – has launched a fleet of direct-to-standard-cellphone communications satellites and aims to provide mobile network coverage in areas not well-served by terrestrial infrastructure.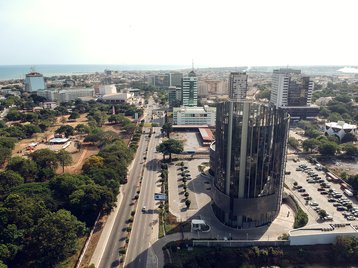 Announced this week, Lynk said the new contract will provide mobile coverage to 100 percent of Ghana's population of 31 million inhabitants using the satellite firm's in-orbit 'cell towers.'
Charles Miller, CEO of Lynk, said: "This agreement extends Lynk's leadership in the satellite-direct-to-standard-phone category in Africa and is an important milestone as interest in the category continues to heat up. Lynk remains the only patented, proven, and commercially-licensed company for satellite-direct-to-standard-phone technology anywhere in the world."
Patricia Obo-Nai, CEO of Vodafone Ghana, added: "We are excited at the possibilities this partnership brings to the country. It provides the unique opportunity to connect everyone everywhere and accelerates the benefits that connectivity offers in health, education, and job creation, especially for our women and youth."
Despite the name, Vodafone Ghana is owned by Telecel Group and the Ghanaian state. Vodafone sold its 70 percent stake in its Ghana unit earlier this year; after originally acquiring Ghana Telecom in 2008 for $900 million.
This is the second deal Lynk has signed with Telecel; in 2021 the two companies signed an agreement to provide satellite-to-cell coverage in the Central African Republic through Telecel's Centrafrique unit.
The company sent its first Lynk Tower 1 ''orbital base station' satellite into space last year. Two more Lynk Towers were launched into orbit in January. When commercially launched, the orbital base stations will be able to connect to existing standard mobile devices on Earth, providing 2G, 4G, and 5G connectivity, the company claims.
Lynk has signed commercial agreements with more than 25 MNOs covering more than 40 countries and has previously said it is 'actively testing' satellite-to-standard-phone connections in 17 countries on all seven continents.
This year Lynk said it has conducted successful trials in Mongolia, Palau, New Zealand, and Antarctica. The company has partnered with Globe Telecom for trials in the Philippines and with 2degreees in New Zealand.
Founded in 1986, Telecel Group is an African-focused telecommunications provider that operates across much of the continent, including South Africa, Ivory Coast, Nigeria, Kenya, and Senegal.