Satellite firm Lynk Global is close to completing its first Ka-band ground station in Hawaii.
The company – formerly known as UbiquitiLink – has launched a fleet of direct-to-standard-cellphone communications satellites, and is developing a Ka-band ground station to route cellular signals to a mobile operator partner's terrestrial network.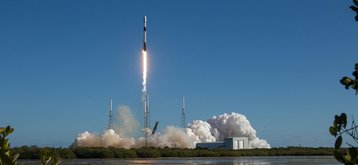 "We're in the middle of building it and we think we'll get it built in February and test it out," Lynk CEO Charles Miller told SpaceNews, "and that'll be in line to support our commercial service."
The Hawaii facility is the 'first of dozens' of ground stations the company plans to deploy worldwide.
The company currently has three satellites in orbit and permission to operate 10 of them in low earth orbit (LEO). Commercial service is planned for later this year, and the company is seeking funds for the next three satellites.
Lynk is reportedly "deep in negotiations" with "four major investors" about a much larger funding round.
Lynk has demonstrated satellite links with mobile operators for sending and receiving data, Miller told the publication the company still needs to test services across the various interconnections embedded within nationwide telecoms infrastructure.
Demonstrations to date have also been limited to the S-band antennas on Lynk's satellites while its Ka-band ground station is under construction.
The company sent its first Lynk Tower 1 ''orbital base station' satellite into space last year. Two more Lynk Towers were launched into orbit this month. When commercially launched, the orbital base stations will be able to connect to existing standard mobile devices on Earth, providing 2G, 4G, and 5G connectivity.
Lynk has signed commercial agreements with 25 MNOs covering 41 countries and said it is 'actively testing' satellite-to-standard-phone connections in 17 countries on all seven continents.
The satellite-direct-to-phone telecoms company has previously signed an agreement with Belgian communications firm BICS to expand mobile coverage to remote rural areas. The company has also signed contracts with operators on seven island nations in the Pacific and Caribbean, including Telikom Limited in Papua New Guinea, Aliv in the Bahamas, and bmobile in the Solomon Islands, as well as Mongolia's Unitel and Telecel Centrafrique in the Central African Republic.
AST SpaceMobile is also developing its own constellation of direct-to-mobile satellite communication satellites. It has agreements with the likes of Vodafone and AT&T.
Elon Musk's SpaceX recently struck a deal with US operator T-Mobile to provide mobile signal connectivity from space, via its Starlink satellites. T-Mobile is hopeful the venture will provide speeds of 2-4 Mbps through Starlink's satellites.
Qualcomm has partnered with Iridium to provide satellite connectivity to future Android phones, while Bullit and Apple are also rolling out similar capabilities.