Meta (formally known as Facebook) has confirmed plans to build a data center in Kansas City, Missouri.
Today the Kansas City Area Development Council (KCADC) and its partners announced that Meta had selected the Kansas City region for a data center. The tech company is starting construction and plans to be operational in 2024.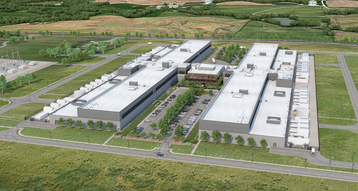 The social media firm will spend more than $800 million developing a one million sq ft (92,900 sqm) facility in the Golden Plains Technology Park.
"Meta is excited to call Kansas City our new home. It stands out with so much to offer - good access to infrastructure and fiber, a strong pool of talent for both construction and operations, and more than anything, great community partners," said Darcy Nothnagle, director of community and economic development, Meta. "Meta is committed to being a good neighbor and investing in the long-term vitality of the region for years to come."
The KCADC said the facility will achieve net-zero carbon emissions and will aim to be LEED Gold level certified, as well as see Meta add additional renewable energy to the region's local grid.
"We're proud to welcome Meta to Kansas City for this historic, cutting-edge development that will positively impact our state's economy for years to come," said Missouri Governor Mike Parson. "The Show-Me State stands out as a rising technology hub due to our strategic location, skilled workforce, and prime business climate. This unprecedented investment signals Missouri is open for business, and that our state is a prime destination for high-tech leaders and innovators alike."
Plans for a Golden Plains Technology Park (also known as Project Velvet) were first submitted last year. Local developer Diode Ventures, a subsidiary of Black & Veatch, aims to develop up to 5.5 million square feet (510,000 sqm) of data center construction with 16 buildings built in three zones. The park is being developed on more than 760 acres of undeveloped land along Platte and Clay Counties to the north of the city, located at the southwest corner of the intersection of N.W. 128th Street and US Highway 169. The campus would reach full operational capacity in 2032.
Earlier this month, Biz Journal reported Meta was due to occupy more than 375 acres of the campus, with plans to eventually develop three buildings on the park. It's unclear if Meta will also eventually occupy the other two regions of the park.
Previous plans filed with local officials show Project Velvet's first two buildings as a 601,955 sq ft (55,900 sqm) data center and 50,000 sq ft (4,600 sqm) ancillary building. A second-phase extension then could see two more 601,955 sq ft data centers built.
"KC is the most connected region in the US with more than 5.5 million miles of fiber deployed. This infrastructure, coupled with a dynamic and robust talent pool, provides Meta the resources it needs for long-term success in our market," said Tim Cowden, president and CEO, Kansas City Area Development Council. "Meta's selection of KC, joining many other global tech brands in our region, puts a spotlight on our thriving tech industry. The region's new state-of-the-art single terminal airport opening in March 2023 and our collaborative business community make KC a top location of choice for other tech companies seeking growth."
For the building of its new data center, Meta plans to use the Data Center Sales Tax Exemption Program, a tool that incentivizes the location and expansion of data centers in Missouri created by the Missouri General Assembly in 2015.
After a large expansion spree in 2021, 2022 has seen the company formerly known as Facebook announce plans to expand its Gallatin data center campus in Tennessee, announce new data centers in Idaho along with a new campus in Spain.