Microsoft has introduced Azure public cloud services in Korea, hosted across new data center regions in Seoul and Busan.
Virtual machines are available immediately, while support for Office 365 will be added in the second quarter of the year.
"The geographic expansion of Azure enables our customers to achieve higher performance and supports their requirements and preferences regarding data location to meet the growing demand for an intelligent, global, enterprise-ready cloud," said Yousef Khalidi, corporate vice president of Azure Networking at Microsoft.
Cloud first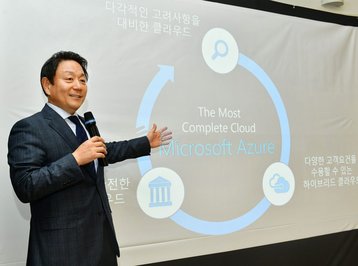 Microsoft recognized the significance of public cloud later than some of its competitors: Amazon launched AWS in 2006 while Windows Azure (as it was then called) only appeared in 2010.
In the years since, the company has spent more than $15 billion to expand its data center network, gradually emerging as one of the world's largest cloud providers. The new regions in Korea are part of 13 regions in Asia, and 34 Azure regions across the globe, with another four to be launched in the near future.
Microsoft has been operating a data center in Korea since 2014, but the facility was primarily focused on Software-as-a-Service applications. The company also launched a Cybersecurity Center (CSC) in Korea in March 2016.
New infrastructure in Seoul (codenamed Korea Central) and Busan (Korea South) follows the same design principles used in construction of previous Microsoft cloud data centers. It will enable replication of data across multiple regions within the country's borders, giving customers reliable data protection for business continuity purposes.
"Microsoft recently conducted a Digital Transformation Study in Asia which shows only 18 percent of businesses leaders surveyed in Korea have a full digital strategy in place. By contrast, 79 percent agree that every organization needs to be a digital business to enable growth in the future, and 76 percent regard cloud computing as essential in their digital transformation strategy," said Al Koh, CEO of Microsoft Korea.
"Hundreds of organizations have signed up to use these new Azure regions to gain access to a comprehensive and complete set of cloud services to empower their digital transformation and accelerate local innovation."
In line with last year's announcements, Microsoft is yet to launch two regions in the US – in Texas and Arizona, adopted specifically for government use – and two regions in France.