Microsoft has quietly launched its first Azure cloud region in Doha, Qatar.
"We are launching our newest data center region in Qatar. The new data center region includes Azure Availability Zones, which offer you additional resiliency for your applications by designing the region with unique physical data center locations with independent power, network, and cooling for additional tolerance to data center failures," the company posted in its Azure updates page.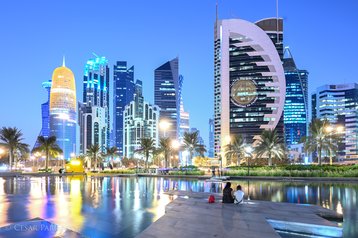 On the company's Azure infrastructure page, the Qatar region is listed as based in Doha, and launches with three availability zones.
The Qatari government gave Microsoft permission to develop a cloud region in the Gulf country in January 2019, with an official announcement from the company coming in December of that year. At the time the company said the new region would be available in 2021. Qatari ICT firm Meeza completed the data center due to host Microsoft's infrastructure last year, but the launch of the region itself was pushed back to 2022.
Microsoft has a second Azure region in the Middle East; its Dubai region in the UAE launched in 2019. Its Abu Dhabi region, launched at the same time as Dubai, has since been de-listed and may have been converted into a reserved access zone.
The company is also working on developing a cloud region in Israel.
Google is developing regions in Israel, Saudi Arabia, and Qatar. AWS has a region in Bahrain and is planning another in the United Arab Emirates (UAE).
Oracle opened its first UAE cloud region in Dubai in 2020, after opening a facility in partnership with local telco Etisalat the year before. The company now has four of six planned cloud facilities open in the Middle East; two in the UAE and one each in Saudi Arabia and Israel. The company plans to open second facilities in both countries, and recently signed an MoU to become a tenant in SA's new Neom city.