Microsoft has signed a new energy deal with Canadian energy firm Ontario Power Generation (OPG) to procure renewable energy, including nuclear sources.
The deal will see Microsoft procure Clean Energy Credits (CECs) sourced from OPG's carbon-free hydro and nuclear assets in Ontario on an hourly basis, allowing it to match its actual energy usage. The technology company will also look to procure energy credits from an upcoming Small Nuclear Reactor (SMR) deployment OPG is planning.
The size of the investment or the amount of power agreed hasn't been shared.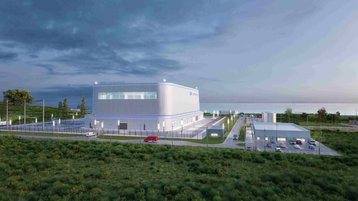 "This innovative partnership will not only spur economic development in Ontario, but also serve as a model for other companies and jurisdictions to encourage use of clean hydro and nuclear power," said Ken Hartwick, OPG President and CEO.
"Agreements like this one with OPG will help Microsoft move closer to achieving our sustainability commitments, including our goal of having 100 percent of our electricity consumption, 100 percent of the time, matched by zero-carbon energy purchases by 2030." said Chris Barry, President, Microsoft Canada. "Working closely with like-minded organizations like OPG, will help us move toward a more sustainable future, while continuing to power innovation in Ontario."
Along with the purchase of clean energy credits from OPG, the two companies will also collaborate on a number of sustainability & technology initiatives, including:
- Co-developing an hourly energy matching platform that utilizes Microsoft Azure IoT and AI technology.
- OPG has chosen Microsoft's Azure as its cloud platform to modernize applications, IT infrastructure and services.
- OPG and Microsoft will explore digital co-innovation opportunities to accelerate OPG's Small Modular Reactor (SMR) program.
- Under a separate recently-signed Memorandum of Understanding, Microsoft and OPG will evaluate procurement of CECs associated with the carbon-free energy produced by the soon-to-be-constructed Small Modular Reactor (SMR) at the 300MW Darlington New Nuclear Project site.
OPG is the owner of four nuclear power plants; directly operating the Pickering Nuclear Generation Station in Pickering and Darlington Nuclear Generating Station in Courtice, Ontario. It also owns the two nuclear power plants at the Bruce Nuclear Generating Station in Ontario, operated by Bruce Power under a long-term lease. The company operates more than sixty hydroelectric stations, several natural gas stations, and a small number of wind, solar, and biomass plants.
SMRs are smaller nuclear reactors – modules with output measured in the low hundreds of megawatts rather than gigawatts – which can be built in factories and delivered where they are wanted. Companies including Rolls Royce and Nuscale are looking to develop them for government and commercial use.
OPG has a preliminary target to have the first Darlington SMR operating as early as 2028. The company will be using the BWRX-300 water-cooled reactor and working with GE Hitachi Nuclear Energy (GEH) for the deployment. OPG had also been considering Terrestrial Energy's Integrated Molten Salt Reactor and X-energy's Xe-100 high-temperature gas-cooled reactor.
Earlier this year the Uptime Institute predicted data center operators would begin to buy nuclear power as part of the mix in their Power Purchase Agreements as a carbon-friendly alternative to 100 percent renewable energy.
For a data center operator, a PPA for a portion of an SMR's output might seem like a potential upgrade on a PPA for a wind or solar farm. Rolls Royce estimates an SMR could generate power at around €50 ($48) per Mwh, on par with many renewable projects and without the usual peaks and troughs wind and solar generation see.