After signing a partnership with Eaton to use its grid-ready EnergyAware UPS systems last month, Microsoft will roll out the battery solution at its Dublin data center.
The uninterruptible power supplies will help the grid with fast frequency response, and could be used to power some of the data center's IT load during times of high fossil fuel use on the grid.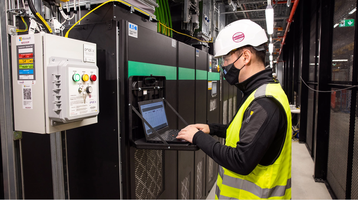 Ireland's transmission system operator, EirGrid, operates a market for grid services that prioritize non-carbon-emitting solutions. Microsoft will participate in this through Enel X, an energy services and solutions provider that aggregates industrial and commercial energy consumers into virtual power plants.
Eaton's grid-ready EnergyAware UPSs can respond to control signals from the utility, and offer power to the local grid, when there is an issue with supply because of peaks in demand, or troughs of supply from wind farms or solar plants.
"We have this battery asset in the data center that is just sitting there," Christian Belady, distinguished engineer and vice president of Microsoft's data center advanced development group, said. "Why don't we offer it to the grid and come up with a dynamic way of managing it as a dual-purpose asset and thus drive more efficiency and asset utilization? That's what drove this win-win situation."
Microsoft did not disclose how large its lithium-ion battery system is, nor how much it was willing to share with the grid. DCD has asked for clarification.
The company operates a number of data center halls at its Grange Castle, South Dublin, campus - and plans to build two more by 2023. The total IT load of the facilities is not known, but Baxtel suggests at least 255MW of capacity is in operation.
Instead of detailing its current plans, Microsoft instead noted that if grid-interactive UPS systems were to replace the grid services currently provided by fossil fuel power plants in Ireland and Northern Ireland, about two million metric tons of carbon dioxide emissions could be avoided in 2025.
The company said that it was exploring similar initiatives at data centers around the world, but chose Ireland due to its high level of variable renewable energy. Unmentioned, but likely a factor, is the growing concern about data centers' impact on the Irish grid that has essentially killed the development of new data centers in the Dublin area.
"The long-term vision is to turn the data center assets into something that can provide social benefit outside of our own operations," Nur Bernhardt, a senior program manager for energy at Microsoft, said.
More in The Energy & Sustainability Channel