Microsoft plans to acquire Nuance in an all cash deal worth $19.7 billion, including assuming $3.7bn in debt.
The speech recognition company has found particular success in the healthcare sector, transcribing speech in doctor office visits, and signing contracts with private healthcare providers. It also sells to customer-service calls and transcribes voicemails. Notably, Nuance also powers some of the voice recognition technology in Apple's Siri.
In a statement, Microsoft said that it hoped the acquisition would bolster its Microsoft Cloud for Healthcare business. Nuance already hosts its services on Microsoft Azure.
For more breaking data center news, features, and opinions, be sure to subscribe to DCD's newsletter
Who will Microsoft buy next?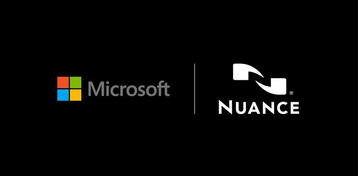 "Nuance provides the AI layer at the healthcare point of delivery and is a pioneer in the real-world application of enterprise AI," said Satya Nadella, Microsoft's CEO.
"AI is technology's most important priority, and healthcare is its most urgent application. Together, with our partner ecosystem, we will put advanced AI solutions into the hands of professionals everywhere to drive better decision-making and create more meaningful connections, as we accelerate growth of Microsoft Cloud for Healthcare and Nuance."
The acquisition, which is expected to close later this year, is Microsoft's second-largest after its purchase of LinkedIn for $26.2 billion. The company has been on an acquisition spree lately, picking up games publisher ZeniMax for $7.5bn, putting $2bn into self-driving business Cruise, and is thought to be in discussions with messaging platform Discord over a $10bn deal. It also tried and failed to acquire TikTok last year for around $30bn.
Nuance's financials will be reported as part of Microsoft's Intelligent Cloud segment, with Microsoft claiming the acquisition will double its total addressable market in the healthcare provider space to nearly $500bn. Nuance currently works with 77 percent of US hospitals.
"Over the past three years, Nuance has streamlined its portfolio to focus on the healthcare and enterprise AI segments, where there has been accelerated demand for advanced conversational AI and ambient solutions," said Mark Benjamin, Nuance's CEO.
"To seize this opportunity, we need the right platform to bring focus and global scale to our customers and partners to enable more personal, affordable, and effective connections to people and care. The path forward is clearly with Microsoft - who brings intelligent cloud-based services at scale and who shares our passion for the ways technology can make a difference. At the same time, this combination offers a critical opportunity to deliver meaningful and certain value to our shareholders who have driven and supported us on this journey."
Nuance is the largest pure-play AI speech-recognition company, after merging with its primary competitor ScanSoft in 2005.
ScanSoft itself was Xerox spin-off that was bought in 1999 by Visioneer, which took its subsidiary's name. In 2001, ScanSoft acquired the assets of Lernout & Hauspie, a Belgian speech recognition technology company that went bankrupt due to management fraud. Just before it collapsed, it acquired one-time industry leader Dragon Systems in an all-stock deal.
Dragon's founders sued their financial advisors Goldman Sachs for failing to do due diligence on L&H prior to the acquisition, pointing out that Goldman has previously passed on an opportunity to invest in L&H due to accounting suspicions. The lawsuit failed, with the judge ruling that "Goldman's conduct, even if sloppy and unforthcoming, was not unfair or deceptive."
With the latest acquisition, Goldman Sachs acted as exclusive financial advisor to Microsoft, while Evercore was the exclusive financial advisor to Nuance.