OpenStack service provider Mirantis has launched an integrated appliance with Dell and Juniper Networks providing everything needed for an OpenStack cloud, packaged in a rack. 
The Mirantis Unlocked Appliance runs cloud native applications and is designed to provide an OpenStack private cloud as easy to use as public cloud services. It combines combines networking gear from Juniper Networks at the top of the rack with compute and storage on Dell R630s with Mirantis' OpenStack distribution system. The systems will be built and delivered by systems integrators: the first to be announced is Redapt in the US.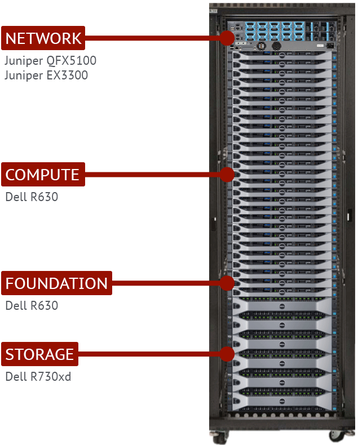 New partners
"About 20 percent of infrastructure is consumed through the appliance form factor because it is extremely easy to set up and operate," said Alex Freedland, Mirantis president and co-founder. "Mirantis Unlocked Appliances combines this ease of use with the openness and flexibility of OpenStack, delivered as a cloud-in-a-box."
OpenStack appliances are not unknown. Canadian startup Breqwatr launched its own at the OpenStack Summit in Vancouver in June. 
Dell and Juniper are not Mirantis' first partners. It previously fell out with ex-investor Red Hat, which now has its own Red Hat OpenStack offering.
Pricing for the apppliance starts at $250,000 for a block which runs six compute and three storage nodes, supporting up to 192 virtual machines. A one-off fee buys three years of Dell hardware support and one year of software support from Mirantis.