US-Canadian cooling specialist M&M Carnot says data centers should move to cooling their data centers with CO2, to reduce their environmental impact.
The company says CO2 has a much lower global warming potential than traditional refrigerants, which are being phased out around the world. CO2 can be used in the same sort of chillers, going through a similar expansion and condensation cycle to remove heat efficiently, according to a guide published this month.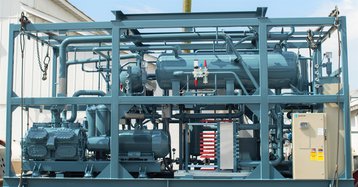 Governments around the world are phasing out current HFC refrigerants such as R134a and R410A, according to updates to international agreements. The Montreal Protocol was originally set in 1987 to stamp out a previous generation of refrigerants that depleted the ozone layer, and has been updated to remove their replacements, which cause global warming.
In the US, new chillers cannot use HFCs from January 2024.
In chillers and refrigerators, a working fluid such as an HFC evaporates and condenses. Some have suggested that HFCs can be replaced by water, but others have proposed CO2, as long ago as 2006. In international chemical listings, CO2 is referred to as R744.
This is counterintuitive, as CO2 is the definitive greenhouse gas, but HFCs have a global warming effect thousands of times larger than CO2. Arnold Magcale, the chief scientist of Nautilus Data, has suggested that sequestering CO2 in cooling systems could make data centers carbon negative: "We could be the leaders in carbon sequestration," he told DCD in March 2022.
Carnot Refrigeration, based in Canada, has been shipping the Aquilon range of CO2-based chillers to data centers since 2012, and was bought by US-based M&M Refrigeration in 2019. The company claims that as well as lowering the environmental impact of a chiller, CO2 makes for more efficient systems, which can save 90 percent of the energy consumption of conventional systems.
The report, "Refrigerant Restrictions: Is Your Data Center Ready for the Transition?," explains the technology and regulatory background and includes a case study in which a Quebec data center reported a 60 percent reduction in the energy used in cooling, when it switched to the CO2-based system. The guide was linked from R744, a website dedicated to CO2-based refrigeration.
"This white paper demonstrates how CRAC equipment using CO2 as a refrigerant improves data center processes, reduces their costs and reduces the use of equipment with high global warming potential," said Marc-André Lesmerises, president of Carnot Refrigeration. "We know that making this change demonstrates a commitment to the environment and it's exciting to help our data center customers find a solution to cool their data centers that meets their needs and the needs of the planet."