US nuclear player NuScale Power has received regulatory approval for a small modular reactor (SMR) that could be used to power data centers in future.
The NuScale Voygr design is the first SMR to gain final approval from the Nuclear Regulatory Commission (NRC) for deployment in the US. SMRs, which are also under development at companies including the UK's Rolls-Royce, have been proposed as a potential source of low-carbon energy for data centers which could effectively allow facilities to operate independently from the local grid.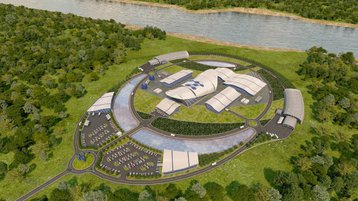 From February 21, utilities will be able to refer to the NRC ruling, and apply to build and operate 50MW Voygr reactor modules Up to 12 such modules can be grouped into one power source. The company originally applied for approval in 2018, and has since applied to increase the capacity of each module to 77MW, with the latest stage of that application taking place this month.
The Voygr reactor is cooled passively by gravity and convection, and has been developed with help from the US Department of Energy (DOE), which has put more than $600 million into NuScale and other SMR projects since 2014.
For the US government, Assistant Secretary for Nuclear Energy Dr. Kathryn Huff said: "SMRs are no longer an abstract concept. They are real and they are ready for deployment thanks to the hard work of NuScale, the university community, our national labs, industry partners, and the NRC. This is innovation at its finest and we are just getting started here in the US!"
CEO John Hopkins said NuScale was "thrilled to announce the historic rulemaking from the Nuclear Regulatory Commission for NuScale's small modular reactor design, and we thank the Department of Energy (DOE) for their support throughout this process".
NuScale and the DOE are working with Utah Associated Municipal Power Systems (UAMPS) on a six-module Voygr demonstration at the Idaho National Laboratory. The first module is due to be running by 2029 with full plant operation the following year. According to NuScale's latest announcement, that project will use the new 77MW modules.
With US approval under its belt, NuScale is also looking to deploy its reactors abroad, claiming 19 signed agreements to deploy SMR plants in 12 different countries, including Poland, Romania, the Czech Republic, and Jordan. A contract for the Romanian project was signed in January 2023.