The Omaha Public Power District wishes to expand its wind power generation capabilities following an agreement with Facebook to provide its future Nebraska data center with 100 percent renewable energy.
Facebook unveiled that it was the mystery owner behind two planned 450,000 sq ft (41,800 sq m) data center halls in the Sarpy Power Park, Nebraska, at a press conference yesterday after trying to keep it secret for months – although DCD obtained the information prior to the official announcement.
The answer is blowing in the wind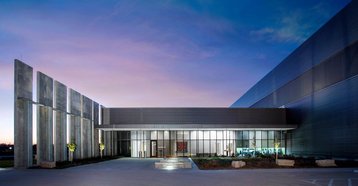 To cater for companies like Facebook - whose Altoona data center in Iowa used 174,000 megawatt hours of electricity in 2015 -  OPPD recently doubled its renewable capacity by building a 400MW wind farm in nearby Holt County.
By doing so, the utility company was able to introduce a new rate structure, allowing Facebook to purchase all renewable energy rather than be forced into a half and half deal of the kind OPPD used to offer. Other companies such as Yahoo are expected to adopt the new rate also. 
In view of addressing new demand, OPPD will be running plans to expand by a further 450MW by its director's board in coming months. 
Fuel for growth
In recent years, data center providers have benefited from an increased availability of renewable energy and in turn created new demand for it. A study by the International Renewable Energy Agency recently found that sustainable energy generation has doubled in the past ten years, with China, Europe and the US accounting for 62 percent of total installed renewable capacity.
That said, the change of direction taken by the US administration - which has laid out plans to scrap green energy objectives and reinvest in the coal industry, with President Trump having signed an executive order rolling back many of the former administration's regulations on corporate carbon dioxide emissions - has brought a degree of doubt upon the immediate future of sustainable energy.
Although it remains unclear how Facebook will react following the Energy Independence order, Google, Amazon, Microsoft and Apple issued a joint statement on March 28th, saying that they remained committed to Obama's Clean Power Plan and that they would pursue their renewable energy goals irrespective of relaxed legislation: thus, it may be that technology companies decide to plod on with or without their President's blessing.