MTN Zambia has launched its 5G commercial in the country.
The operator launched the service on November 24, in line with the expected launch date DCD reported earlier this month.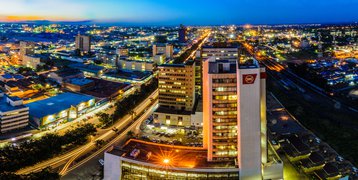 In launching the 5G services in Zambia, MTN has become the first Zambian operator to launch 5G, with the service launched in multiple cities.
MTN Zambia CEO Bart Hofker said MTN's 5G services had been activated to cover about 65 percent of the population in the cities of Lusaka, Kitwe, and Ndola, plus parts of Chingola, Solwezi, and Kalumbila. The company claims its launch covers 15 percent of the country's population, estimated to be around 19.6 million.
"We plan to reach 100 percent 5G coverage in Lusaka, Kitwe, and Ndola by the middle of 2023, while gradually expanding the 5G network to other locations," said Hofker.
MTN Zambia is also pushing the modernization of its 3G and 4G networks in the country, plus building a fiber ring in Zambia in partnership with MTN GlobalConnect to provide connectivity to more rural areas.
By the end of the year, the operator is aiming to provide coverage alternative to 45 sites, plus another 100 next year as part of its rural connectivity program.