SpaceX CEO Elon Musk revealed that the spacecraft engineering company is interested in working with Apple to provide the vendor with satellite connectivity via its Starlink network.
It comes a day after Apple launched its iPhone 14 range, along with the feature of providing emergency SOS alerts via satellite.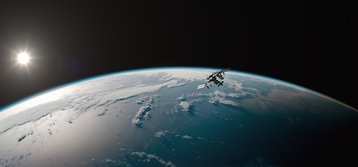 Musk made the comments on Twitter, replying to a user who asked if SpaceX would potentially partner with Apple to support its new emergency SOS service. He told the user that SpaceX has had "promising conversations with Apple about Starlink connectivity".
He suggested that such a deal might require changes to the iPhone, saying that closing the link from space to phone would "work best if phone software & hardware adapt to space-based signals vs Starlink purely emulating [a] cell tower."
Apple has chosen Globalstar to provide it with satellites that are necessary to connect to the iPhone 14. This service will be available to US and Canadian customers from November, with the service free for the first two years.
Globalstar specializes in making low-earth orbit satellites and worked with SpaceX to help launch the Falcon 9 rocket in June.
SpaceX has made a lot of noise in this space, recently signing a deal with T-Mobile to provide mobile signal connectivity from space, via its Starlink satellites to remote areas across the US, in an attempt to eliminate '0G'.