Precision liquid cooling firm Iceotope has paired with Hewlett Packard Enterprise (HPE), Intel, and nVent to create a new scalable Open RAN liquid-cooling offering.
The company says that the solution, which is called Ku:l Extreme, can support 'Far Edge' computing across the entire telco data center estate.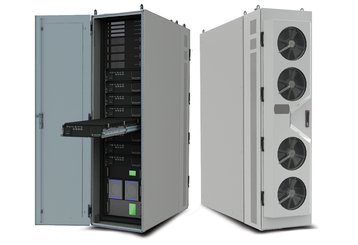 Iceotope claims that Ku:l Extreme is a fully integrated, standardized solution that offers greater sustainability, energy efficiency, and serviceability for server generations to come. The solution comes with Intel Xeon Scalable processors.
The company showcased its latest solution at Mobile World Congress (MWC) in Barcelona today (February 27).
The solution has been created by Iceotope, HPE, Intel, and nVent to reduce energy consumption and deliver a sustainable solution across distributed workloads, for both telco service providers and enterprises.
According to Iceotope, Ku:l Extreme comes with a modular design, which is configured to enable scalability across all types of deployments.
Ku:l Extreme can be deployed at any location, notes Iceotope, from a single server at a cellular base station to a ruggedized solution for the Edge or to an enterprise-grade data center.
It supports both high-performance liquid and air-cooled devices while optimizing serviceability and simplifying maintenance across the data center estate. Iceotope says the solution will enable customers to achieve their sustainability and net-zero targets.
Iceotope claims that Ku:l Extreme minimizes the need for on-site maintenance as it doesn't require server fans, while the dielectric fluid reduces thermal stress, and the enclosed chassis makes the units impervious to gases, dust, and humidity. The company adds that this helped to extend the server lifecycle and saves on maintenance costs.
On top of this, Out of Band Management (OOBM) enables remote monitoring of the health of the server from a single location.
"The growing importance of Open RAN is clear to see. Operators are looking for ways to meet the demands for low latency, high scalability data processing in remote locations, whilst also reducing the power consumption across RAN sites," said Phil Cutrone, SVP and GM, service providers, OEM, and telco at HPE.
"Our latest collaboration with Iceotope Technologies addresses these requirements by integrating Iceotope's Ku:l Extreme chassis with high-performing HPE ProLiant DL110 Telco servers that are workload-optimized for RAN. The combined solution enables customers to deliver performance, scaling, and energy efficiency improvements, as well as extending server lifecycles and reducing maintenance costs."
Last year, Iceotope teamed up with Meta as part of a study to demonstrate that immersion cooling can be safely used with hard drive storage - by re-engineering an air-cooled storage system to be cooled by liquid.
The company also worked with Intel in June of last year to run a comparative test between its Ku:l Data Center Precision Immersion Cooling Solution and air-cooling.