Sudan has been hit by a near-total collapse of Internet connectivity across the country as fighting for control of the nation continues.
This has now led to Sudanese people struggling to stay connected as the army and a paramilitary group called the Rapid Support Forces (RSF) clash.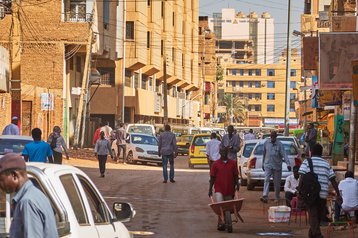 Earlier in the week mobile operator MTN Sudan was ordered by the state regulator to restore Internet services in the country, hours after the operator was told to block the services by the same regulator.
A few days later, outage tracker NetBlocks reported that multiple Internet and mobile providers in the country were experiencing outages due to power shortages and difficulties accessing backup generators.
Now, "real-time network data show a near-total collapse of Internet connectivity in Sudan with national connectivity now at two percent of ordinary levels; the incident comes as foreign diplomats are evacuated amid fighting between military and paramilitary forces," NetBlocks said on Twitter.
The fighting in the country has led a number of nations to evacuate their diplomats from the country, including the UK, US, the Netherlands, and France, with US President Joe Biden announcing it had suspended operations at its embassy.
Since the conflict began in Sudan on April 15, more than 400 people have been confirmed killed, and more than 3,500 wounded. The continued fighting comes despite the announcement of a 72-hour ceasefire by both sides.
The army unit is loyal to General Abdel Fattah al-Burhan, the head of Sudan's transitional governing Sovereign Council, while the RSF is led by General Mohamed Hamdan Dagalo, who is deputy head of the council.
Both groups joined forces in 2019 to oust former president Omar al-Bashir, but have recently clashed over a disagreement relating to the integration of the RSF into the military as part of a transition towards a civilian rule.
Statistics from cybersecurity research company Surfshark revealed that Sudan has seen the most Internet shutdowns in Africa since 2015, along with Ethiopia, with this the 12th recorded Internet disruption.
"The perilous and life-threatening military situation in Sudan is compounded by the absence of internet access, and Sudan has already experienced a troubling number of similar restrictions since 2015. Lack of Internet connectivity can have far-reaching and potentially devastating consequences for ordinary citizens, who cannot communicate with loved ones or report the situation to the outside world. This leaves them isolated and vulnerable in a time of crisis," said Gabriele Racaityte-Krasauske, spokeswoman at Surfshark.