The National Energy Research Scientific Computing Center (NERSC) and Lawrence Berkeley National Laboratory has launched the Perlmutter supercomputer
The new HPE Cray system features Nvidia A100 GPUs, AMD "Milan" Epyc CPUs, a 'novel' HPE Slingshot high-speed network, and a 35-petabyte all-flash scratch file system.
"The Perlmutter supercomputer will help inspire the next generation of scientists and innovators, allowing the US and Department of Energy to remain a leader in using scientific computation to answer our greatest questions," said David Turk, DOE Deputy Secretary. "As we continue to enhance and deploy computing platforms like this, our national labs will only be better positioned to develop solutions to today's toughest problems, from climate change to cybersecurity."
The system is being delivered in two phases; the first features 1,536 nodes, each with one AMD Epyc 7763 processor and four Nvidia NVlink-connected A100 Tensor Core GPUs. Phase 2, expected later this year, will add another 3,072 CPU-only nodes, each with two AMD processors and 512GB of memory per node.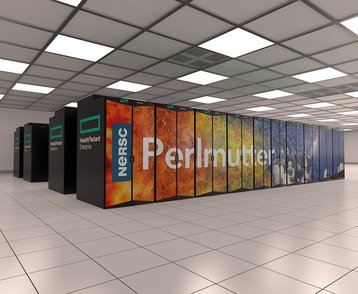 "Perlmutter will provide considerably more computing power than our current supercomputer, Cori and will introduce several key technologies that will be used in exascale systems in the coming years," said NERSC Director Sudip Dosanjh. "It will enable a larger range of applications than previous NERSC systems and is the first NERSC supercomputer designed from the very beginning to meet the needs of both simulation and data analysis."
The system will also be heavily used in studies of the climate and the environment, clean energy technologies, semiconductors and microelectronics, and quantum information science. When complete, Perlmutter is expected to provide 3-4 times the performance of NERSC's current flagship system, Cori.
"AMD is extremely proud to work with our strategic partners to push the boundaries of HPC in areas including scientific and environmental research, medical advancements and artificial intelligence," added Forrest Norrod, senior vice president and general manager, data center and embedded solutions business group. "The new Perlmutter supercomputer from NERSC, will drive the next wave of critical discoveries that help to solve the world's biggest challenges."
The new system is named in honor of Nobel Prize-winning astrophysicist and Berkeley lab alumni Saul Perlmutter who helped discover the expansion of the universe is accelerating.
"This is a very exciting time to be combining the power of supercomputer facilities with science, and that is partly because science has developed the ability to collect very large amounts of data and bring them all to bear at one time," Dr. Perlmutter said.
"This new supercomputer is exactly what we need to handle these datasets. As a result, we are expecting to find new discoveries in cosmology, microbiology, genetics, climate change, material sciences, and pretty much any other field you can think of."