A new data center is being proposed in east London, UK.
The 1.39 hectare-site, at the western edge of the former East India Import Dock, is currently occupied by Mulberry Place and Lighterman House; two post-modern office blocks built in the 1990s.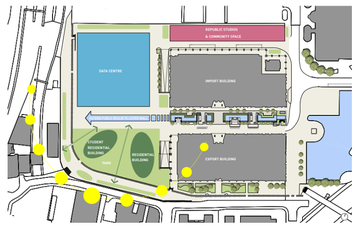 The planning application proposes to demolish the existing office buildings and to construct a 30-story residential building, a 36-story student residential building, a data center, and a building to provide flexible workspace, community use space, and/or a Swimming Pool.
EID (General Partner) LLP is the applicant for the project, with Simpson Haugh/Nicholas Webb/Savills acting as architects and agents.
The application at this stage is only seeking outline planning permission for the data center, but hopes to deliver a maximum of 35,000 sqm (376,700 sq ft) Gross Internal Area of Class B8 (data center) floorspace.
The eight-floor facility could have a potential IT power of 30MW and feature six halls each of 1,200 sqm (12,900 sq ft). The filing notes the facility would require a back-up source of power 'in the form of 18 diesel-fuelled generators of 3.3 MW.'
Outline planning permission looks to see if the local authority agrees in principle with your plans, after which full planning permission applications are filed.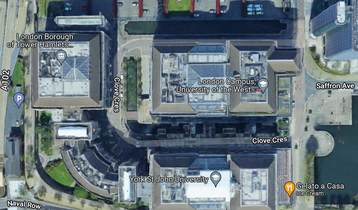 The data center is expected to achieve a BREEAM rating of 'Excellent', according to the filings.
No end-user for the data center was listed, but Global Switch owns facilities directly to the north and east of the proposed development. Telehouse also owns several facilities in the vicinity.
The docks opened in 1806 and closed in the late 1960s. In 1992 the site was redeveloped to create an office campus comprising four main buildings, providing disaster recovery space for businesses at Canary Wharf, together with Tower Hamlets Council Town Hall at Mulberry Place.
Due to take place today, the Tower Hamlets Council is reportedly set to authorize the development at its next meeting.
More in Construction & Site Selection