The award for the JEDI contract to serve the US Department of Defense's cloud needs, worth up to $10bn over 10 years, will be delayed indefinitely.
Newly-appointed Defense Secretary Mark Esper plans to investigate the contract, which was expected to be awarded to either Amazon Web Services or Microsoft Azure later this month.
Another delay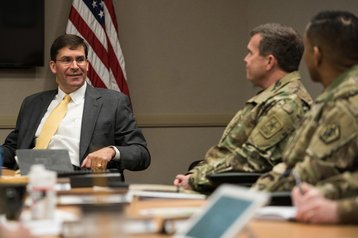 "Secretary Esper is committed to ensuring our warfighters have the best capabilities, including Artificial Intelligence, to remain the most lethal force in the world, while safeguarding taxpayer dollars," Elissa Smith, a DoD spokesperson, said in an email statement.
"Keeping his promise to Members of Congress and the American public, Secretary Esper is looking at the Joint Enterprise Defense Infrastructure (JEDI) program. No decision will be made on the program until he has completed his examination."
No details were given as to how thorough the examination is expected to be, or how long it could take. At a news conference the day after his swearing in as Defense Secretary, on July 23, Esper said that JEDI was "one of the things I want to take a hard look at."
His actions come just days after President Trump told reporters: "I'm getting tremendous complaints about the contract with the Pentagon and with Amazon.
"They're saying it wasn't competitively bid... Some of the greatest companies in the world are complaining about it, having to do with Amazon and the Department of Defense, and I will be asking them to look at it very closely to see what's going on."
But Trump's comments, which some believe could be colored by his distaste for Washington Post owner and Amazon CEO Jeff Bezos, may have been informed by an Oracle document.
Earlier this week, it was revealed that documents written by Oracle lobbyists reached President Donald Trump's desk, with the text claiming a vast Amazon-led conspiracy.
Oracle, which is not able to compete for the JEDI contract as it does not meet the necessary requirements, has engaged in an extensive campaign to malign the contract, and suggest that it was written to favor AWS. Similar, smaller, efforts have been made by other JEDI also-rans, including IBM.
Earlier this week, before Secretary Esper announced his investigation via Elissa Smith, the same DoD spokesperson criticized Oracle for employing "poorly-informed and often manipulative speculation."
She added: "DoD officials directly involved in the work of this procurement along with the senior leaders charged with making the critical decisions related to JEDI have always placed the interests of the warfighter first and have acted without bias, prejudice, or self-interest. The same cannot be said of all parties to the debate over JEDI."
JEDI has already undergone several investigations and lawsuits, leading to several delays.
Core to the Oracle-backed argument of improper relations between AWS employees and DoD officials is the case of Deap Ubhi. He previously worked for Amazon and then spent 18 months at the US Digital Service (USDS) before returning to AWS. It is alleged that during his year-and-a-half stint he engaged in "highly technical" discussions with potential JEDI competitors and had access to a drive with information on the procurement.
But a legal challenge raised by the company in the Court of Federal Claims was dismissed by Judge Eric G. Bruggink. In his ruling, he wrote: " The information supplied by AWS related to Mr. Ubhi's relationship with AWS during his Defense Digital Service employment. AWS maintained throughout its communication with the CO that it hired Mr. Ubhi without knowing that he had lied to DoD about his reason for resigning and lied to AWS about complying with DoD ethics rules. Mr. Ubhi in fact hid relevant information and misdirected both DoD and AWS."
Bruggink sided with the contracting officer in concluding that while there was "a significant amount of communication and negotiation between AWS and DoD employees," and a potential for conflicts of interest which were not adequately disclosed, "the errors and omissions were not significant and did not give AWS a competitive advantage was reasonable and well supported."