A trio of technology firms have banded together to launch the first internet exchange in the Nashville region this week. DevDigital, 365 DataCenters, and Peace Communications announced the formation of the Nashville Internet Exchange (NashIX) – a new carrier-neutral, open-access peering network serving the Nashville and middle-Tennessee region.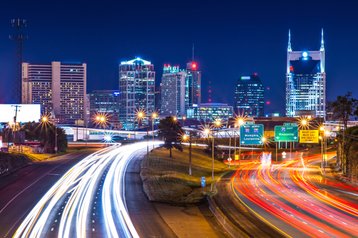 NashIX is located at 365's recently upgraded colocation data center facility near downtown Nashville. All three co-founding companies will jointly operate the exchange.
The group explained that the new exchange will increase internet access speed by up to four times while lowering the connection costs for participants by 70 percent, "by allowing service providers and businesses to connect to each other locally rather than having to pay for long haul transport to Internet exchanges in other cities." Before NashIX was established, the group added, regional service providers and businesses required connections to exchanges in Atlanta, Chicago, or Dallas, which increased both costs and network delays known as latency.
"Latency between Nashville and Atlanta is six to eight milliseconds, compared to typical latency within a metropolitan area of less than two milliseconds," it claimed, adding that a private connection line within the Nashville metro area would be about one third of the cost of a similar connection between Nashville and Atlanta.
"Businesses can reduce long-haul transport costs up to 70 percent by moving content and services closer to clients and consumers at the local network edge. Faster speeds give end-users a much better experience whether that means improved web page load times, more nimble cloud-based applications, or reduced jitter and buffering for videos," commented Jim Peace, CEO for Peace Communications, in a press statement.
Early Birds
NashIX is offering free connections to the exchange for what it's calling "Early Access Participants." This offer applies to organizations that sign-up by September 30, 2015; participants in the shared network infrastructure will need to connect through a 1Gbps or 10Gbps Ethernet connection.
The exchange's standard pricing model will run $350 per month for a 1Gbps port, with a 10Gbps port running $1,000 per month. There will also be per-port pricing incentives available for Early Access Participants.
"The unprecedented growth of the Internet due to the consumption of online video, music and cloud services has made it difficult for service providers and big Internet businesses to scale cost-effectively," said Keao Caindec, chief commercial officer for 365 Data Centers. "NashIX will make the Internet faster and more affordable, enabling small and large businesses in Nashville to benefit."