A new solar farm is to provide Facebook with 145MW of power for its data centers.
Tennessee Valley Authority announced plans this week to build a solar-plus-storage project in Kentucky through its Green Invest program.
Logan County solar farm will provide Facebook's regional data center operations in Nashville, Tennessee with 145MW of solar power and General Motors' Corvette Plant in Bowling Green with 28 megawatts of solar power.
Register now for our upcoming virtual conference on data center energy integration: DCD>Grid Scale
More solar power for Facebook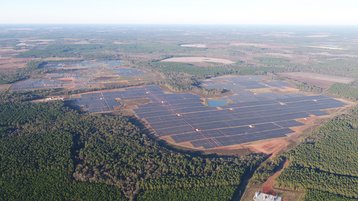 TVA says Facebook's investment helped enable the addition of 120MWh of new battery storage technology that will increase the resilience of the power grid. TVA and Warren Rural Electric Cooperative Corporation are partnering with Nashville-based Silicon Ranch to develop the project.
"Today's announcement is the result of Facebook's, General Motors', and Warren RECC's leadership and our joint, long-term commitment to renewable energy across the region," said Chris Hansen, TVA vice president, Origination and Renewables. "TVA's Green Invest program is bringing together customers and renewable energy partners who are all investing in our communities."
TVA has signed a long-term power purchase agreement with Silicon Ranch to develop, own, operate and maintain the solar-plus-storage facility. Construction is expected to begin in 2022 and be completed in the fall of 2023.
"Green Invest makes it possible for our operations in the Tennessee Valley to be supported by new solar energy constructed in the region," said Urvi Parekh, head of Renewable Energy at Facebook. "This solar and storage facility, less than 50 miles from our Gallatin data center, will be Facebook's first renewable energy project in Kentucky, which marks an important milestone for our global portfolio."
Facebook and the Tennessee Valley Authority signed a 377MW solar deal in 2018, and Silicon Ranch has previously built a solar farm for the company's operations in Georgia. The social network is currently having trouble sourcing renewable energy credits at its Prineville, Oregon campus amid regulation changes around what its local energy provider can offer to customers.
Facebook has been on a massive expansion spree in 2021; the company has announced new data centers at its Papillion, Prineville, Los Lunas, Huntsville, and Eagle Mountain campuses, totaling almost 5 million sq ft (464,500 sq m) of new space.