XData Properties, a Spanish operator and investor planning to build a 100MW campus, has signed an agreement to use Huawei equipment.
The deal, signed at Mobile World Congress in Barcelona this week, aims to build efficient sustainable data centers on XData's sites, which so far consist of a Madrid facility bought from Spanish IT firm Indra in 2021. XData hopes to develop this into a 100MW technology park.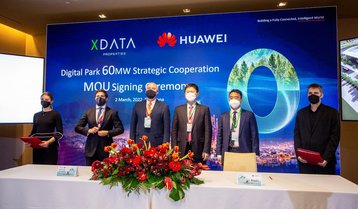 XData Properties was set up by Stoneshield Capital in 2021, and bought the data center at Calle Mar Egeo, 4, in San Fernando de Henares, Madrid, in September 2021.
The seller, Indra, is Spain's largest IT group, and will remain as a tenant for one year (extendable to 18 months) while it finds new accommodation for its resources there. Indra is consolidating its data centers and expects to save €500,000 per year by moving staff and equipment to more modern facilities.
XData's CEO, Santiago Hernández Onís, worked for Equinix for 17 years, serving as VP Spain and Portugal, before shorter spells at Spanish operator Fibratel and European operator Data4. XData's operations manager Javier Merino Granado came across from Indra after the acquisition.

The company says the campus it bought from Indra is one of the largest technological areas in the Iberian Peninsula, 30km from the center of Madrid, and with direct access to the Madrid-Barcelona fiber optic route, Spain's biggest fiber highway.
XData says it will find "the best locations" for space- and power-hungry hosting customers and has committed to using fully renewable energy at its data centers. The Madrid campus has a solar plant that already provides 12 percent of the energy consumed there.
At MWC, Onis signed an agreement with Eric Li, CEO of Huawei Spain, to "develop efficient and sustainable data centers".
The press release says "XData includes Huawei technology", so this appears to be an agreement to use Huawei equipment at the Madrid campus.